SOMERSET, Pa. — Encouraged by a tinny tapping sound coming up from the depths, rescuers drilled an escape hole Thursday in a race to save nine coal miners trapped 240 feet underground in a dark shaft filling up with millions of gallons of frigid water.
After about 1 1/2 hours, crews had bored 45 feet toward the 4-foot-high chamber where the men were believed trapped. Rescuers hoped to use the 2 1/2-foot-wide shaft to pull survivors out of the mine 55 miles southeast of Pittsburgh.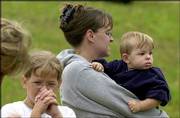 Rescuers also were pumping air into the tiny chamber through a much smaller hole, hoping it would buy them enough time to save the miners who have been trapped since 9 p.m. Wednesday.
"We still believe there are miners alive. We obviously don't know how many," said David Hess, Pennsylvania secretary of environmental protection. "This is a very tricky and dangerous situation, and I don't want to raise expectations."
Twenty-four hours after the accident, noise and dust rose from the site, which was illuminated by bright floodlights. Medical personnel were standing by. Neighbors sat on a fence to watch the rescue efforts.
"They're working feverishly. You can sense when people are determined and have their grit about them," said Gov. Mark Schweiker, who toured the site Thursday night.
The miners, ages 30 to 55, were trapped after apparently breaching the wall of a flooded and abandoned mine next to them, releasing more than 50 million gallons of water into the shaft where they were working.
The miners believed the old mine was still some 300 feet away, but their maps were incorrect, officials said.
It was unknown how high the water was in the shaft, but officials said cold water was rushing past them as they huddled in the dark. Between the water and an air temperature of no more than 60 degrees, rescuers feared the men could suffer hypothermia before they were rescued.
Joseph Sbaffoni of the state Bureau of Deep Mine Safety said the men were probably sitting in the cramped space, their lamps long since gone out.
"It's probably wet, cold and dark," he said. "Coal miners are a special breed. If anybody can get through it, a coal miner can."
The mine was opened in 2000 by Black Wolf Coal Inc. and it employs about 60 miners.
Copyright 2018 The Associated Press. All rights reserved. This material may not be published, broadcast, rewritten or redistributed. We strive to uphold our values for every story published.