Houston — Mark Mangino played important roles in two major turnarounds as an assistant football coach in the Big Eight and Big 12 conferences.
Whether he can do it again as a head coach remains to be seen, but his former bosses praised him Thursday at the Big 12 media days.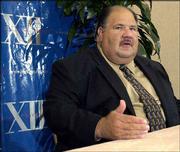 Mangino, Kansas University's first-year coach, worked for Kansas State's Bill Snyder and Oklahoma's Bob Stoops before coming to Kansas in December.
Stoops and Mangino are both former Snyder aides.
"I'd like the apples to fall a little further from the tree," said Snyder, who said he was happy that at least one of his former aides found a head coaching job outside the conference. Former KSU assistant Phil Bennett is the new head coach at Southern Methodist.
"I'm very proud of all the coaches who have gone through our program," he said. "That's what most coaches that are in this profession strive to become head coaches. I'm proud of the fact that they've been able to do that."
Snyder's overhaul of the Kansas State program is widely considered the greatest rebuilding job in college football history. Before Snyder arrived in 1989, KSU was riding a 27-game winless streak and had only two winning seasons in the previous 32 years.
His original staff at KSU included Stoops, who left Manhattan after the 1995 season to become defensive coordinator at Florida.
Mangino joined the Wildcats' staff in 1991, which turned out to be K-State's first winning season under Snyder. Since a 5-6 campaign in 1992, Kansas State has made nine straight bowl appearances.
Mangino climbed the ranks of Snyder's staff, becoming assistant head coach in 1998.
"I think Mark will be an excellent head coach," Snyder said. "Mark has very fine organizational skills. I think he communicates well with young people, and I'm sure he does with his staff as well. He fit in nicely with our staff. He has good knowledge of the game as well and a good overall view of what football is about."
When Stoops left Florida to become head coach at Oklahoma after the 1998 season, he raided Snyder's staff for assistants including Mangino.
Oklahoma hadn't had a winning season in six years before Stoops took over. The new staff returned the Sooners to glory immediately with a 7-5 season and a bowl berth in 1999.
OU is 31-7 in three years under Stoops, including three bowl games, the school's 37th conference championship and seventh national title.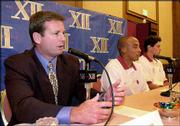 "I was fortunate my last two stops to be on great staffs and to be among two very good head coaches two of the best in the country," Mangino said. "You pay attention to what they do and what they say. I took good notes in staff meetings."
Actually, Mangino has "boxes and boxes" of notes he took as an assistant during staff meetings, practices and after games.
But similarities between Mangino's KU team and those of his former employers might not be obvious.
"We're not going to be a carbon copy," he said. "We'll have our own identity."
Mangino said differences in schools such as budgets and facilities made it impossible simply to implement one program's system at another university.
"What you try to do is borrow things that will fit your program," he said.
A lot of KU's new spread offense is borrowed. Mangino and offensive coordinator Nick Quartaro a former Iowa State assistant have put together an attack Mangino calls a third Oklahoma, a third Iowa State and a third other things the new KU coaches like.
"It's not one set system," Mangino said. "It's kind of a hybrid."
Mangino appreciates the rebuilding jobs pulled off by Stoops and Snyder as he begins his own.
"I've been through a couple," he said. "I respect the head coaches I've been involved with in those turnarounds because there's a lot of weight on your shoulders. You have to be able to prioritize what you have to do what's urgent and what's not. You have to develop patience."
Patience is something the Jayhawks, and their fans, might need. KU hasn't had a winning season since 1995. Last year's 3-8 season was the Jayhawks' worst since they went 1-10 in 1988, their first season under former coach Glen Mason.
"Mark's prepared for all that," Stoops said. "He's an experienced guy. He's knowledgeable, bright, smart. He understands the game and has been part of a few building programs with Kansas State and Oklahoma. He's aware of what's in front of him, and I think he'll do a good job."
Mangino will face Snyder's Wildcats in a Nov. 2 home game, but the Jayhawks won't play Oklahoma this season.
"We don't play Kansas for two years," Stoops said with a smile, "so it's easy for me to sit here and brag about Mark."
Copyright 2018 The Lawrence Journal-World. All rights reserved. This material may not be published, broadcast, rewritten or redistributed. We strive to uphold our values for every story published.