The edge has softened some since police arrested a suspect.
But even though 22-year-old Damien C. Lewis is behind bars, charged with capital murder, residents of Lawrence's Barker Neighborhood, where an elderly couple was slain July 10, still had questions for the Lawrence Police Department about the violent crime and their own safety.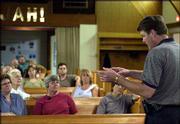 At a Thursday neighborhood association meeting scheduled specifically to grapple with that issue, Lt. Dan Affalter of the police detective division maintained the department's silence about specific details of the shooting deaths of Pete Wallace and Wyona Chandlee, both 71.
"I hate not being able to comment on this because I want you all to know," Affalter told the more than 40 people at the meeting. "This is a very, very serious crime, and the worst thing I could do is run my mouth and risk this person not being convicted."
Neighbors seemed understanding and focused their questions more generally: Does outside lighting deter burglars? Can we get better lighting in our neighborhood? Is it possible to receive statistics about crime in our neighborhood?
Locking doors, leaving on porch lights, getting a dog and installing security systems all could discourage a criminal from targeting a home or not, Affalter said.
"What will serve you best is being on your toes, being aware of your surroundings," he said.
Affalter quoted what he referred to as a startling statistic from a recent study that said 72 percent of Americans didn't know their next-door neighbors. Getting acquainted with the people who live nearby is the only way to detect when someone suspicious shows up, he said.
Neighborhood resident Patricia Sinclair asked how police could be sure Lewis acted alone.
"We're not so naive as to think there could not be other people involved," Affalter said. "However, we think we have the only suspect in custody at this time."
Perhaps the most haunting of the queries from neighbors: How do you survive if you walk in on a burglar in your home? Police believe Wallace and Chandlee were gunned down because they interrupted a burglary in progress.
"You do whatever you feel like you have to do at the moment," Affalter replied. "Whatever feels right at the moment, you go with your heart."
Association members plan to examine lighting in their neighborhood which is bordered by Massachusetts, 15th, 23rd and the Santa Fe Railway tracks west of Haskell Avenue to determine whether to ask the city for more street lights. They also discussed the possibility of designating block captains to get people to know each other better.
The efforts, association president Jim Carpenter said, might be useful "so we don't find out more about our neighbors in the paper than we do by seeing them next door."
The association voted to donate $100 to the memorial fund of Wallace and Chandlee, their former neighbors.
Denise Gibson, neighborhood resident and association vice president, commended Affalter and the department for their quick work in the case.
"I really appreciate all the extra patrolling and the work that you all did," she said.
Affalter said those kinds of thank-yous meant a great deal to the detectives who worked in excess of 16 hours a day for a solid week between when the bodies were discovered and the day police arrested Lewis.
"I've been doing this for 26 years, and any time you have to do something like this, it leaves a little spot on your soul," he said. "To hear kind words like that helps our healing process."
Copyright 2018 The Lawrence Journal-World. All rights reserved. This material may not be published, broadcast, rewritten or redistributed. We strive to uphold our values for every story published.