Cluses, France — Italian rider Dario Frigo won Thursday's 17th stage of the Tour de France, while Lance Armstrong kept the overall leader's yellow jersey and remained almost certain to take a fourth straight title on Sunday.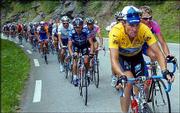 Thursday's leg was the last of the grueling mountain stages. The remaining three legs are easier and give rivals almost no opportunity to cut Armstrong's big lead of 5 minutes, 6 seconds.
The Texan finished the stage from Aime to Cluses in 24th place, 4 minutes, 36 seconds behind Frigo, who clocked 4:02:27 in the 88-mile stage.
"I showed that when there are stages at my level, I can make my presence felt," said Frigo, who never before had won a Tour stage.
He beat Belgian rider Mario Aerts in a blistering sprint finish. Aerts had the same time as Frigo, while another Italian, Giuseppe Guerini, was third, two seconds off the pace.
Copyright 2018 The Lawrence Journal-World. All rights reserved. This material may not be published, broadcast, rewritten or redistributed. We strive to uphold our values for every story published.