Baldwin — Imagine a helicopter crashing onto the Baker University campus and causing death and injury to throngs attending an on-campus festival.
Thursday, about 20 Baldwin and Douglas County officials considered that scenario during a disaster training exercise. Working from the Collins Sports Complex for four hours, they tried to figure out how they would deal with mass casualties at a fictitious Sunflower Festival.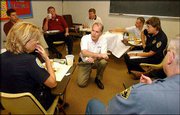 "It went very well," said Paula Phillips, Douglas County Emergency Management director. "We were able to identify some very important points in handling a disaster in Baldwin."
City Administrator Larry Paine agreed.
"The problem was how to coordinate all the different agencies involved," Paine said. "That was a good experience all by itself."
Beside Baldwin city officials and Baldwin Police, also participating were representatives from the Baldwin school district, Douglas County Sheriff's Office, Douglas County Red Cross, Lawrence-Douglas County Fire & Medical and representatives from the Baldwin Care Center and Baker University.
"The important thing becomes communication during a chaotic atmosphere," Paine said. "So many people are doing so many different jobs."
One aspect of the exercise involved parts from the destroyed helicopter crashing into Baldwin Care Center. There also was the possibility of the event being a terrorist attack. The participants had to consider alerts issued through the national Homeland Security Advisory System, Phillips said.
The simulation also allowed outside agencies to become better familiar with Baldwin, Paine said.
Copyright 2018 The Lawrence Journal-World. All rights reserved. This material may not be published, broadcast, rewritten or redistributed. We strive to uphold our values for every story published.