If there exists a fund-raising method the McNabb family hasn't tried, patriarch Rick McNabb doesn't know what it is.
"We've sold magazines, had car washes, pledges for Shoot-a-Thons," McNabb said. "They've mowed lawns, done baby-sitting just about everything."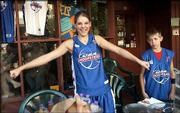 Now the McNabbs Rick; wife, Chris; daughter, Cambry; and son, Jace will leave Saturday for China as part of a USA Hoopsters contingent that will play basketball and conduct clinics at middle schools in Beijing, Kangding, Chengdu and Hong Kong.
"I can't wait to play ball against the Chinese," said Jace, 13, an eighth-grader at West Junior High. Cambry, 15, is a sophomore at Free State High.
On Thursday morning, Cambry and Jace continued to enhance their journey coffers by working for tips at Milton's, a downtown coffee shop, during the annual Sidewalk Sale.
"Each kid's goal," Rick McNabb said, "was to earn $400 to $500. The total cost will be about $2,800, and $2,000 of that is air fare."
The McNabbs are among 16 youths and 16 adults the remainder are from the Kansas City area who will make the two-week journey to the other side of the globe as representatives of the United Sports America ages 13-16 Hoopsters basketball program.
"Our bond is that all of the parents of the kids went to KU together," McNabb said. "A couple are from Kansas State, but we've known each other ever since college."
McNabb is a Lawrence native who works as a field representative for the Fellowship of Christian Athletes. Overseas, he'll be reunited with former Lawrence High classmate and friend David Rofkahr who works for a company that will fund the clinics.
"He's been there five years," McNabb said of Rofkahr. "I don't know the name of his company, but they provide poverty relief and bring in doctors, things like that."
On Saturday, the Hoopsters group will fly to Chicago, then board a 13-hour non-stop flight to Beijing. While in Beijing, they'll tour the Great Wall and the Forbidden City before playing an exhibition game at Beijing Middle School.
Then they'll fly to Chengdu and take an eight-hour bus ride to Kangding where they will conduct clinics, play games and participate in conversational English classes at a middle school.
"One thing we didn't want was a sight-seeing thing," McNabb said. "We wanted them to interact with the Chinese people. They've already learned some Chinese phrases."
Later the group will return to Chengdu, conduct more clinics and visit the Panda Research Center. Then it will be off to Hong Kong for more clinics and games and sight-seeing before they return home on Aug. 4.
"The bond these kids will have will be immeasurable," McNabb said.
Copyright 2018 The Lawrence Journal-World. All rights reserved. This material may not be published, broadcast, rewritten or redistributed. We strive to uphold our values for every story published.