Cleveland — Torii Hunter again said he was sorry for throwing a ball at Danys Baez.
He didn't apologize for his home run.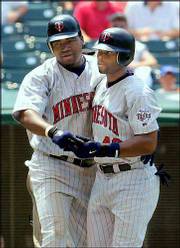 Hunter, who drilled Baez a night earlier after getting hit by a pitch, hit a two-run homer and Luis Rivas drove in the go-ahead runs in the seventh inning as the Minnesota Twins rallied Thursday for an 8-6 win over the Indians.
Before the game, Hunter told Twins manager Ron Gardenhire that he had some unfinished business with the Indians.
"He said, 'I owe them,'" Gardenhire said. "I don't think it's a vendetta. But I'm sure if felt pretty good for him to be running the bases."
Hunter left the pitching to others in Thursday's game, using his bat to get back at the Indians as the Twins erased a 6-2 deficit and swept the two-game series.
Yankees 6, Tigers 5
New York Shane Spencer hit a tiebreaking RBI double in the eighth inning as New York beat Detroit. Alfonso Soriano hit a leadoff homer and Raul Mondesi also hit a solo shot for the Yankees, who have won 11 of 15. Jason Giambi's sacrifice fly off Fernando Rodney (1-3) tied the game in the seventh and the Yankees won it in the eighth. Ramiro Mendoza (7-2) got two outs for the win.
Red Sox 4, Devil Rays 3
St. Petersburg, Fla. Rickey Henderson and Lou Merloni hit solo home runs and Trot Nixon hit a go-ahead single in the eighth inning as Boston rallied past Tampa Bay. Tim Wakefield (3-3) pitched three hitless innings in relief of Frank Castillo as Boston won its third straight following a four-game losing streak.
Blue Jays 5, Orioles 4
Toronto Jose Cruz Jr. homered in Toronto's four-run third inning and the Blue Jays swept the two-game series to win their six of seven overall.
Mariners 5, Rangers 3
Arlington, Texas Charles Gipson Jr.'s suicide squeeze bunt brought home the go-ahead run in the ninth inning as Seattle rallied to beat Texas. The Mariners, who have won nine straight games in Texas, scored two runs in the eighth to tie the game.
Athletics 2, Angels 0
Oakland, Calif. Barry Zito won his team-record 16th straight at home, and Miguel Tejada hit his fourth homer in six games. Zito (13-3) allowed four hits in 71â3 innings to tie Boston's Derek Lowe and Kansas City's Paul Byrd for the AL lead in victories. Billy Koch finished the six-hitter for his 24th save in 28 chances.
Copyright 2018 The Associated Press. All rights reserved. This material may not be published, broadcast, rewritten or redistributed. We strive to uphold our values for every story published.