Jamestown, N.Y. — It's abundantly clear Lucille Ball's hometown loves Lucy, but the pages of a guest book in the town's Lucy-Desi Museum suggest there are no limits, city or otherwise, to the late comedienne's reach.
"Thanks for making my life a little happier with your humor," reads one of the hundreds of messages left by some of the estimated 60,000 visitors who've come from all 50 states and 36 countries, including Japan, New Zealand and Zaire.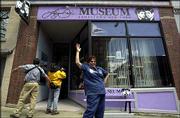 Now, six years after its opening, the museum is undergoing a transformation initiated by Lucille Ball's children, who have taken control of the operations from the Chautauqua County Arts Council.
Lucie Arnaz and Desi Arnaz Jr. envision a bigger and better museum, one that will house not only more exhibits, but a gift shop, artifact storage and offices.
"It's a big dream for a small town," Lucie Arnaz said.
Jamestown, population 31,730, is on the southern tip of Chautauqua Lake, about 70 miles southwest of Buffalo. Its affection for its most-famous daughter is evident around town, where the larger-than-life Lucy-Desi murals that decorate public buildings offer a first hint at the Lucymania.
There's the Lucille Ball Little Theatre of Jamestown, the Lucille Ball Memorial Park and a display at the Fenton History Center titled "Lucille Ball: Not the Girl Next Door," about Lucy's local roots. The actress' face in neon decorates the Tastee Corners & Cafe. Even the Lake Shore Savings Bank gets into the spirit by displaying a rare 1940s photograph of Lucille Ball taken aboard the "City of Jamestown" steamer.
And there is Jones Bakery, across the street from the museum, which makes the Swedish limpa rye bread that Ball had shipped to her Beverly Hills home. Lucy's birthplace in Jamestown and a childhood home in nearby Celoron are also frequent stops for fans.
The sites are open year-round but things really come alive during two festival weekends each year. Lucy-Desi Days, celebrating the comedic couple, happen each Memorial Day Weekend, with the exception of this year because of the operations changes. Lucy's Birthday Celebration takes place in early August. Both festivals feature co-stars, book signings, grape stomping, film fests and fan reunions.
The centerpiece is a walk through the museum, smallish for now, but nonetheless packed with everything Lucy in a mix that reflects both her rural New York beginnings and her glamorous Hollywood rise. The theme changes each year in time for Lucy-Desi Days, so return trips are worthwhile.
Commercial break
This year, executive director Ric Wyman and his staff of 10, aided by volunteers, have put together "...and Now a Word from Our Sponsor," featuring products endorsed by Lucy, grouped by decades. In the 1940s and 1950s, Lucy's image appeared on everything from sewing patterns to wine and car tires, as well as Hoover vacuums and Philip Morris cigarettes. She was among the early Pepsi celebrities. After the birth of "Little Ricky," there was the Ricky Junior baby buggy and I Love Lucy knitting yarn. In the 1960s and 70s, there were endorsements for Lucite Paint and board games.
The exhibits supplement the permanent displays of objects from Lucy's home mundane things like her sunglasses and toothbrushes to more recognizable items, like her red wig, probably the most exciting thing for the fans to see, says Wyman. A theater at the rear of the museum plays biographical videos, which include remembrances from Lucy's Jamestown chums.
In one clip, a friend talks about the first time she dyed a teenage Lucy's hair red, a less-than-successful undertaking that left the future actress with orange hair and an orange forehead to match.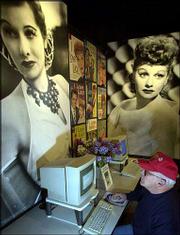 "We've had the good fortune of capturing a lot of stories on video before these ladies passed away," Wyman says.
There are many more artifacts in storage because of space limitations. It's hoped the museum will be in its bigger location in about two years.
Wyman is a Wisconsin native and longtime fan who, while in college in 1995, wrote a book on Lucille Ball. He was first invited to the museum for a book signing. His "For the Love of Lucy" tells her story through movie posters and TV Guide covers.
"She was my first babysitter," said Wyman, who has since written "The I Love Lucy Book of Trivia."
Preserving heritage
Wyman welcomed the decision by the estate to form a new nonprofit corporation to manage the museum when its contract with the Chautauqua County Arts Council expired in March.
"It demonstrated the family was willing to invest in the museum and the community, and we're fortunate," he says.
Lucie Arnaz says the museum is a way to preserve and share her heritage.
"My brother Desi and I are very happy and frankly relieved that we have been able to preserve our parents' memorabilia so well, lo these many years after their deaths," she says.
She credits the museum, along with Universal Studios' "Lucy: A Tribute" exhibits in Hollywood and Orlando, Fla., and the traveling "I Love Lucy 50th Anniversary Tour Experience," with helping preserve artifacts from her parents personal and professional lives.
"We have also been able to provide a way for thousands and thousands of people, every year, to learn more about the prolific and legendary contributions these two unique and complicated individuals made to the entertainment industry," Arnaz says.
Serving along with Lucie Arnaz and Desi Arnaz Jr. on the new board of directors are soap opera actress and longtime Lucy fan Melody Scott Thomas, four Jamestown residents, a Lucy fan from Cleveland and Wanda Clark Stamatovich from Los Angeles, Lucy's secretary of 27 years.
Lucille Ball last made a public appearance in her hometown in 1956 when she and Desi Arnaz came to Jamestown for the world premiere of her movie "Forever Darling."
She was supposed to return in 1989 but died a month before the visit.
Copyright 2018 The Associated Press. All rights reserved. This material may not be published, broadcast, rewritten or redistributed. We strive to uphold our values for every story published.