An inviting garden bench sits at the far edge of the garden. The Dames Rocket shimmers in the sunlight behind it. The scene, viewed from a high vantage point at the entrance to Barbara Watkins' back yard, reminds me of a Monet painting beautiful and serene.
"This only happens about once every five years," Watkins notes.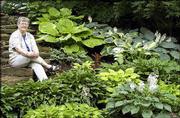 A small pond bubbles in front of us, and two sets of rock steps lead in differing directions. The right side eventually weaves down to an expanse of grass that is punctuated in the center by a huge sycamore tree, a giant Blue Angel hosta stretching out behind it.
The steps on the left pass in front of the water feature, through a grove of trees, around groundcover, hostas and plants still sitting in their original containers, waiting to find a permanent home in the garden.
We opt to start our journey to the left. We walk down a handful of stone steps and up a small path before stopping at a unique rock sculpture built to look like a Japanese lantern. The structure sits among groundcover and is cradled by cedar trees.
"In Japan, the traditional lantern had five stones," Watkins explains.
True to form, her sculpture has five stones, all different shapes, aligned precisely and balanced perfectly. A candle is set in the open center stone.
"To me it's just an icon for a culture that I deeply respect," Watkins says.
She credits stone mason Mike Becker with building the structure, a task undertaken with an element of hidden risk.
"During the excavation for the lantern, an underground beehive was uprooted," she says. "He got stung a few times, so did I."
Along the shaded path, I notice ivy groundcover, ferns and many different kinds of hostas.
"I'm a hosta gardener," Watkins confirms. "I've got 60 or 70 kinds of hostas."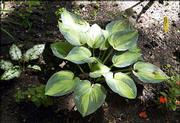 She calls out the names of some of them as we pass by Honeybells, Sum and Substance, Glory, Patriot, Minuteman, High Noon, Blue Angel and Royal Standard.
Several hostas are huge; others are more diminutive. The hostas in the tiara series grow neatly in tiny spaces. The giant-sized Sum and Substance has 2-foot leaves that span 6 feet across.
"One of the challenges of gardening is paying attention to how much space they need," she says.
I can't tell if Watkins has a favorite one.
"The blue has never been a problem," she claims.
Some of the Royal Standard hostas in Watkins garden are 30 years old. She says that she occasionally finds the newer varieties more problematic than the old stand-bys.
"They are not as hardy," she claims. "I don't want to buy more expensive ones for $35 and have them die within one year."
As we continue down to the open area of her garden, we come into a bit of sunlight where daylilies, yellow irises, Siberian irises and foxglove grow. Watkins shows me the small clearing where she found an orphaned fawn last summer.
"When I returned from my office, Fawn was asleep in one of my hosta beds," she says. "She staggered to her feet and quickly fell down."
Watkins united with her neighbors to set up watering stations and provide food, such as seedless grapes and fresh corn to nourish the animal.
"By summer's end, Fawn could run as fast as the wind," she notes. "She would munch in the back yard for three hours nonstop and then would nap in the hosta or raspberry beds."
In mid-September, Fawn was relocated to a deer herd south of Baldwin.
Like the fawn experience, gardening also binds the neighbors.
"One of the neat things about the neighborhood is we are all gardeners. We share plants. We share knowledge," Watkins says. "It's part of being a good neighbor."
As green as her garden is, Watkins spices it up with color.
"The last step is to put in annuals," she says. "I don't put in any annuals until I've weeded."
We have come full circle by now. Besides the cultivated plants, I notice many volunteer plants, such as violets, sprinkled throughout the garden.
"I have a very hard time pulling up plants that are alive and thriving," Watkins admits. "I'm still learning to do garden design, even though I've been gardening for a quarter of a century."
---
Carol Boncella is education coordinator at Lawrence Memorial Hospital and home and garden writer for the Journal-World.
Copyright 2018 The Lawrence Journal-World. All rights reserved. This material may not be published, broadcast, rewritten or redistributed. We strive to uphold our values for every story published.