Milwaukee — Torii Hunter jumped right into the national spotlight at the All-Star Game.
With two outs in the first inning, Barry Bonds had done it again hit another big home run. Or so it seemed.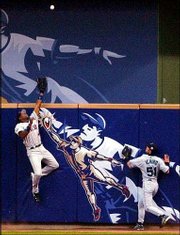 Hunter charged to the fence in right-center, leaped and caught the ball about 18 inches above the top of the 8-foot fence in the first inning of Tuesday night's All-Star Game.
"It was like a dream come true," said Hunter, a bright spot in an All-Star Game that ended in a 7-7, 11-inning tie when the teams ran out of pitchers.
For the 27-year-old center fielder, it was the greatest catch of his life.
"You know what because it was in the All-Star game, I think it was No. 1," he said. "And it was Barry Bonds ... I made a great play on Barry Bonds, a guy who's going to be in the Hall of Fame. I can always tell my grandkids I robbed a Hall of Famer."
Hunter, 6-foot-2, won his first Gold Glove last year, and is a big reason the Minnesota Twins have gone from the brink of extinction to postseason contention. After hitting .261 and setting career highs last year with 27 homers and 92 RBIs, he batted .306 in the first half of the season, hitting 20 homers and driving in 61 runs.
But it's his distinctive defense that has earned him fame, just like Seattle's Mike Cameron, another outfielder noted for catches that make the nightly highlight shows.
"I thought he was Michael Jordan," Sammy Sosa said. "That kid impresses everybody like a Superman right there, comes out from nowhere and jumps like that and got the ball."
The catch wowed his fellow All-Stars.
"I think everybody was speechless," NL starter Curt Schilling said. "It's always awesome in an All-Star Game to see an All-Star do what got him there. Those are the moments people will never forget."
Seattle's Ichiro Suzuki, playing in right field, didn't think it was possible.
"I thought that was already gone over the fence," he said through a translator.
Copyright 2018 The Associated Press. All rights reserved. This material may not be published, broadcast, rewritten or redistributed. We strive to uphold our values for every story published.