Mico, Tex. — Hundreds of people fled three small West Texas towns Saturday as a storm dumped more than a foot of rain on an area that rarely sees more than 2 feet a year, while rainfall tapered off in flood-weary central Texas, where water surrounded homes in 29 counties.
With thunderstorms and locally heavy rain remaining in the forecast through the middle of this week, it was unclear when the thousands of evacuees around the state would be allowed to return home.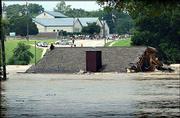 One evacuee, Erik Lyon, had moved to New Braunfels since the town's 1998 flood and didn't expect that to happen again, but on Saturday he sat on a cot at a Red Cross shelter checking ads for homes on higher ground.
"Before we were debating it, but now it's almost definite. I think we are going to move for sure," the 26-year-old musician said.
New evacuation warnings were made Saturday for residents in three small towns and part of Abilene, where Big Elm Creek had swelled to 23 feet above flood stage.
"We're really not sure how bad it's going to be, but the worst is yet to come," said Abilene police Sgt. Kim Vickers. The town has about 116,000 residents.
Witnesses said helicopters rescued some residents stranded by rising water in the towns. Boats and large military-type vehicles were used to rescue about 100 people, authorities said.
Statewide, a week of flooding has forced at least 4,000 people to evacuate, killed at least eight people and caused tens of millions of dollars in damage. The latest death came Friday, when an 11-year-old boy was removed from life support five days after he fell into a swollen San Antonio creek. One man was listed as missing.
In some places, more than 30 inches of rain have fallen in less than a week. Two dozen counties remained under flood warnings Saturday, the National Weather Service said.
Elsewhere in central Texas, water continued seeping through a crack in a 90-year-old dam on the Medina River. Families living along the river downstream from the dam had been watching anxiously for days, and many already had packed up and left.
However, the water level behind the dam was slowly dropping after cresting about 18 inches below the top, and on Saturday Texas Natural Resource Conservation Commission spokesman Elston Johnson gave residents good news: "It does appear to be safe."
Some people complained that the risk of dam failure had been exaggerated, but others felt the warnings were justified.
"You can't blow it out of proportion when there are so many people living below" the dam, Mico resident Jack Love said of the dam on Medina Lake northwest of San Antonio.
Another resident of New Braunfels, a city northeast of San Antonio, stood about 100 yards from his house Saturday and watched water from the Guadalupe River lap at the top of his front door. Paul Wukasch and his wife and four children had started moving out Thursday, taking photo albums, antique furniture and artwork.
"It's all material stuff," he said as the brown, trash-filled water swept past. "That's the only way you can look at it."
About 200 miles northwest of Wukasch's home, as much as a foot of rain fell overnight on West Texas land baked dry by an extended drought around Abilene.
Authorities ordered several hundred people to evacuate the nearby towns of Buffalo Gap, Tuscola and Lawn. Abilene's average annual rainfall is about 23 inches.
"It's serious enough," Taylor County Sheriff Jack Dieken said. "We're trying to evacuate some people and keep them out of harm's way."
In Bandera, on the Medina River upstream of the lake, flood victims were beginning to sort out what remained of their homes and possessions. More than 100 homes were damaged or destroyed in the small community.
Copyright 2018 The Associated Press. All rights reserved. This material may not be published, broadcast, rewritten or redistributed. We strive to uphold our values for every story published.