Atlanta — Ultimately, high expectations and a higher than average payroll did in Don Baylor.
The Chicago Cubs fired Baylor on Friday and made Bruce Kimm interim manager, one day after a loss to Atlanta left the Cubs with a 33-49 record.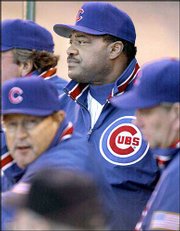 Kimm, currently the manager at Triple-A Iowa, won't join the team until today.
"When the talent on the field does not equal the amount of victories in the standings, that is the criteria for making a change," Cubs president Andy MacPhail said. "It's not always a fair one, but that's the way we see it."
Chicago also announced Jim Hendry had been promoted to general manager, taking over the duties from MacPhail.
After going 88-74 in 2001 and finishing five games out of the playoffs, the Cubs expected to contend this season with a $76 million payroll. But except for Sammy Sosa, their offense has been anemic and ranks near the bottom in the National League in nearly every category.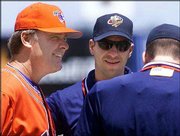 "We just didn't win enough games," veteran Fred McGriff said.
"I try to just look at the big picture,"MacPhail said. "The spectrum of things we ask a field manager to be good at is humongous. But in the end, you have to evaluate the results."
Copyright 2018 The Lawrence Journal-World. All rights reserved. This material may not be published, broadcast, rewritten or redistributed. We strive to uphold our values for every story published.