Today won't be all fireworks.
Flag-raising ceremonies, the reading of the Declaration of Independence, parades, Bloody Marys and lemonade will all play a part in small neighborhood Fourth of July celebrations.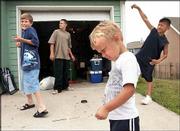 Eight years ago today, a storm rolled through Lawrence and lightning struck a house not far from Jim and Jane Budde's residence in the 1000 block of Wildwood Drive. Neighbors gathered to watch firefighters go about their duties.
"When it was over, we invited everybody down to our house for Bloody Marys," Jane Budde said. "We've been doing it ever since."
The gathering will occur again at 10 a.m. today and open with the raising of the American flag, Jane Budde said. Deanell Tacha, chief judge with the 10th U.S. Circuit Court of Appeals and a Lawrence resident, will read the Declaration of Independence. Mayor Sue Hack will give a speech.
Then, "depending on your age, it will be Bloody Marys or lemonade," Jane Budde said. "We'll also have cookies."
In Old West Lawrence, the annual neighborhood parade will start at 10 a.m. today. A fire truck leading the way, the parade will start at Seventh and Ohio streets and conclude at Buford M. Watson Jr. Park, Sixth and Kentucky streets.
The parade usually includes children riding on decorated bicycles.
"There's normally about 100 people in the parade," neighborhood resident Susan Tate said.
In northwest Lawrence, an annual parade that begins on Tumbleweed Drive is set to get under way at 10:30 a.m. The cavalcade of bicycles, scooters, wagons and four-wheelers decorated in patriotic garb will then head south on Sharon Drive, turn east on Stetson Drive and return to Tumbleweed.
Most parade participants are children, though the event really is for everyone, said Lindsey Pendry, neighborhood resident.
"We've had moms pushing decorated strollers, dogs and people who decorate themselves," she said.
Pendry and her husband will be the parade's grand marshals, leading the pack on a golf cart that carries a stereo booming patriotic tunes.
The weather should cooperate with celebrators. The National Weather Service in Topeka said today would be partly cloudy with highs in the mid-80s. There is a 30 percent chance of rain.
Copyright 2018 The Lawrence Journal-World. All rights reserved. This material may not be published, broadcast, rewritten or redistributed. We strive to uphold our values for every story published.