If all goes as planned, exhibits at Haskell Indian Nations University's new Cultural Center and Museum will be available to anyone with access to the Internet.
"I'd love to have the exhibits here available to teachers and students and anyone who's interested, anywhere in the world," said Diane Rayner, a recent Haskell graduate who's learning how to run a digital camera that collects images that are later converted to a virtual format.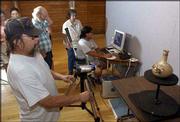 Rayner was at the museum Tuesday for a training session coordinated by the Smithsonian's National Museum of the American Indian in Washington, D.C. About a dozen Haskell and Kansas University students attended the session.
Eventually, the national museum hopes to add digital images of the artifacts in Haskell's collections to its collection of more than 800,000 pieces.
The Haskell museum officially opens Sept. 14-15, the weekend of the 14th Annual Haskell Indian Art Market.
Later this month, Rayner and six others all with ties to Haskell will go to the national museum's Cultural Resources Center in Suitland, Md., to help elementary school students from Florida collect images of artifacts. While there, the Haskell group will collect images for Lawrence.
Others making the trip to Maryland are Hope Melius, Charlotte Wilkinson, Theresa Milk, Johnnie Fields, Gil Hood and Bobbi Rahder. Rahder is librarian, archivist and curator at Haskell.
Using the Internet, Marty de Montamanager of the national museum's resource center, hopes to create a series of virtual exhibits that will use technology to preserve and promote tribal traditions.
"Native people want to use 21st century technology, but they don't want to give up their culture to do it," de Montaaid. "What we're doing here today will give teachers the opportunity to develop culturally representative curriculum and help students research their own cultures while, at the same time, showing them how to use and benefit from the technology."
Montaa Prairie Band Potawatomi, grew up in Lawrence. She graduated from Haskell in 1975.
In August, Haskell officials expect to begin moving the university's collections of American Indian art and artifacts to the school's Cultural Center and Museum's state-of-the-art storage facilities.
"Right now, we have stuff on display and in offices around campus and stored in the warehouse," Rahder said. "We need to take better care of it."
Copyright 2018 The Lawrence Journal-World. All rights reserved. This material may not be published, broadcast, rewritten or redistributed. We strive to uphold our values for every story published.