Bob Timmons is more than a little reluctant to discuss the cost of his magnum opus.
When it's suggested that Timmons a Kansas University Athletic Hall of Famer for his success as KU's head track and field coach from 1965-1988 invested enough in it to pay for a nice car, if not a small house, Timmons smiles.
"It's not about money," Timmons said. "And it's not about me. It's about the kids."
Timmons started work on "The NCAA: Who protects Student-Athletes? A Proposal for a Student-Athletes' Bill of Rights" in 1966. Countless forms and revisions later, the 65-page work is bound in nice glossy paper stock and is headed to every president or chancellor of every member institution in the NCAA.
Timmons had around 2,500 copies of the book printed, along with a matching envelope depicting the scales of justice.
Timmons stuffed the envelopes and on Monday night sent them to the front office of every NCAA school in the country, in addition to some of the largest newspapers in the land.
"My hope is that they don't just file it in the round file," Timmons said. "That is a risk. I know not everybody will read it, but maybe they'll have somebody read it."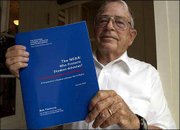 Timmons started the project out of concerns about the NCAA's policies that "infringe on the fundamental rights of student-athletes," and he challenges leaders of NCAA member schools to develop a "bill of rights" to protect student-athletes.
Timmons lists 10 "rights," ranging from the right to participate to the right to work.
It's no coincidence that the right to participate included in the supporting document is a discussion about the decreased opportunities for men as a result of the push to comply with Title IX is Right No. 1.
"It's the most important," Timmons said. "A lot of schools have cut down on the number of men allowed to compete. Now, you see that this right doesn't say anything about men or women. It just says student-athletes should have the right to compete."
Ultimately, Timmons said, he'd like to see the NCAA adopt a bill of rights protecting student-athletes as a result of his work.
"I don't want to cause any problems for the NAIA," Timmons said. "They seem more oriented toward fairness. And I don't have a chip on my shoulder for the NCAA."
Part of the bill of rights is dedicated to establishing a "fair" system of punishment for student-athletes, the gist of which is that innocent student-athletes should not be punished for infractions of teammates or coaches and that student-athletes should be guaranteed the right of due process.
KU's track program was put on probation in 1972 after Timmons gave decathlete Sam Goldberg $10 to buy a pair of shoes after Goldberg showed up barefoot for a road trip. That was deemed a prohibited extra benefit, and Timmons railed against the punishment. KU was banned from competing in the NCAA Indoor and Outdoor meets, though the sanctions eventually were lifted on appeal.
"My hope is that people don't read vindictive things into this," Timmons said. "It's for the student-athlete. That's all."
Copyright 2018 The Lawrence Journal-World. All rights reserved. This material may not be published, broadcast, rewritten or redistributed. We strive to uphold our values for every story published.