Poplar Bluff, Mo. — His guitar-slinging days in a band long past, Ray Brookover finds the song remains the same: Grab a few pieces of good wood, string together some time in a dusty workshop and make the power tools sing.
For this crafter of electric guitars, it's a gig that rocks.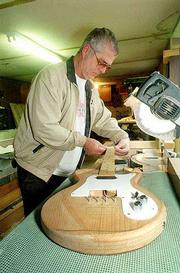 "I guess it's the enjoyment of taking a piece of wood and turning it into something beautiful," the smiling 56-year-old grandfather says, near his living room display of six shimmering guitars he considers his babies.
"I can play enough chords or, given enough time, beat out an old song. But I just love instruments, and that's my contribution to make as fine a guitar as I can make."
These days, he makes 15 to 20 guitars a year but could do as many as 25, aside from the banjo or mandolin he fits in when not working full-time as a city mechanic in this southeast Missouri town.
Brookover's retreat is an old beat-up trailer house that is his backyard workshop, where blocks of virgin wood stand stacked against the walls, within reach of guitar-making templates and the dusty mounds of wooden debris of guitar projects past.
Brookover's "labor of love" dates about four decades, when the son of an oil-field worker and a homemaker wanted to play in a band but couldn't afford a bass guitar. So with the help of his woodshop teacher at his Taft, Calif., high school, Brookover built one.
"I guess I just took it for granted it was another woodshop project I could do," he said.
The work landed Brookover a summer job with the former California-based Mosrite Guitar Co., where he says he built as many as 100 guitars on his own while dabbling in a rock 'n' roll band and managing his younger brother's group.
In the ensuing decades, Brookover crafted guitars when the motivation hit, largely during the late 1970s and early 1980s then again in recent years, when he obliged his young grandchildren's requests for instruments of their own.
For his 10-year-old grandson who's crazy about wolves, Brookover built a guitar body shaped like a lobo's head. Brookover's 8-year-old grandson received a handmade, yellow guitar mimicking a Les Paul style the boy wanted. The man also plans to make a guitar for his 4-year-old granddaughter.
"They're piano players right now. Not too far in the distant future, I hope to make guitar players of them."
While preferential to using rock maple, Brookover takes requests for guitars of poplar or rosewood, getting the wood and other materials locally when possible.
Most of Brookover's guitars go to local family and friends, though some make their way to nearby Cape Girardeau or even California, where his band-playing brother still lives. Often, Brookover charges just enough to break even, telling customers beforehand "you just have to let your pocketbook be the guide." Brookover's low-end guitars run about $500 to $600, the priciest about $2,500.
"Most of the guys who want them want them because they're unique and not something they can buy off the shelf."
Well put, says Rick Sawyer. As manager of the local All Star Music store, Sawyer, 45, says he's been Brookover's "guinea pig" since last year, putting the guitars through their paces and dispensing advice to the "sweet guy who makes killer guitars."
"Lately, I've just been wowed. He's come so far," says Sawyer, who has played one of Brookover's guitars in his three-man acoustic band, Cafe Buzz. "He's really coming into his own as a guitar maker."
In hopes of building his business, Brookover has created a Web site, which implores would-be customers to "Challenge us. WE'LL TRY ANYTHING ONCE." He plans to retire from his mechanic job in about four years, hoping to draw some retirement income from his guitars.
Brookover does most everything by hand. Outside his house, there's the skeleton of an addition he's building. Inside his living room, there's the entertainment center he made of spruce, near his homemade bookshelf and coat rack.
"It's been that way all my life," he says. "It seems like I never have the money to buy it, so I build it myself."
Copyright 2018 The Associated Press. All rights reserved. This material may not be published, broadcast, rewritten or redistributed. We strive to uphold our values for every story published.