A collector friend once said: "A ticking clock is the heartbeat of the home."
Today, the electric clock rarely ticks and few clocks chime, so many sentimental homeowners look for an old-fashioned grandfather clock. Antique tall-case or grandfather clocks sell quickly at shows and shops, even though a good one can cost thousands of dollars.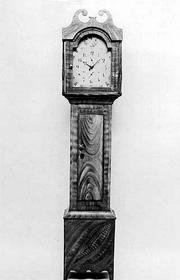 When looking for an antique clock, examine it carefully and ask the seller about its condition. The best clocks have the original case with an attractive old finish. It can be painted or natural wood.
The top of the clock case can be flat, but finials and a shaped pediment are more desirable. The cutout space for the dial can be square, but shaped is better. The dial can be enamel or painted, but it should be in good, unrepaired condition.
Features like moons or extra pictures on the dial add to the value. Chimes are a plus. The pendulum should be original and, of course, the clock should work.
Any feature that shows the skill of the maker adds value to an 18th-century or early-19th-century tall-case clock. A label helps identify the maker, and this, too, adds value, especially if the maker is well-known.
When you buy a clock, be sure to have an expert explain how to set it up and level it so it will work properly. And don't forget to wind it.
My husband's elderly aunt moved into an assisted-living apartment and gave me a box filled with her flatware. Some of the silver-plated serving pieces are in shapes unfamiliar to me and even to our aunt. Where can I find out what these were used for?
To learn how an unusual piece of antique flatware was used, you can go to your local library and find a book on antique silver or silver-plate. Many of them picture serving pieces, such as fish slices, cheese scoops and sifter spoons. At one time these were included with fancy sets.
Antique silver can be used in creative ways. A fish slice can be used to serve pie. A sifter spoon can be used to sprinkle spices. And a cheese scoop can be used to serve spreads.
My son found an old Coca-Cola bottle years ago. It is light green with a standard top, but it has straight sides not the curved sides of most Coke bottles. On the front and back of the bottle are the following words, in block letters: "Property of Philadelphia Coca-Cola Bottling Co., Min. Contents 6 fl. ozs."
There are an embossed ribbon and bow around the bottom edge of the bottle and two embossed ribbons on the shoulder. Can you tell us how old the bottle is?
Most Coke collectors agree that any straight-sided bottles with the word "Coca-Cola" in block letters rather than in the trademarked script did not originally hold Coca-Cola. Instead, bottlers filled these bottles with various fruit-flavored drinks that were also sold at the time.
The straight-sided bottles some, like yours, with the words "Property of" date from the 1920s or '30s.
My old brass-colored medal is 1 1/4 inches square and pictures a discus thrower in the center. The words around the athlete say, "American Turnerbund, Sound Mind, Sound Body, National Turnfest, Cleveland, 1936." The back of the medal is marked "The Whitehead & Hoag Co., Newark, N.J."
Whitehead & Hoag worked from 1880 to 1955 making campaign buttons, trade cards, commemorative medals and other novelties.
The American Turnerbund (gymnastics league) was founded in 1850 by German immigrants. The federation now called American Turners served as a gymnastics/cultural association.
During its first few decades, it supported causes such as abolition and socialism. By 1880, the group's primary goal was to make physical training part of the curriculum in U.S. schools.
The National Turnfest was first held in 1905, with participants from the United States and Germany. The 1936 Turnfest in Cleveland was held the same year as that city's Great Lakes Exposition.
The Normal College of the American Gymnastic Union, the training school of the American Turnerbund, became part of Indiana University in 1941. The result was the founding of the School of Physical Education of Indiana University-Purdue University at Indianapolis, the oldest school of physical education in the United States.
Your medal is not worth more than a few dollars, but it is an interesting collectible.
I have a collection of 45 decorative ewers. They have elaborate metal bases, handles and pouring spouts, and their center sections are made of metal or porcelain. But these ewers can't actually hold anything. There's a central bolt that fits from top to bottom. What can you tell me about their history and value?
We have seen this type of ewer made of white metal or porcelain and metal. They were probably made in France and Germany during the late 1800s and early 1900s. These ewers are decorative, not useful. They sell for about $50 to $75 each.
l The Kovels answer as many questions as possible through the column. By sending a letter with a question, you give full permission for its use in the column or any other Kovel forum. Names and addresses will not be published. We cannot guarantee the return of any photograph, but if a stamped envelope is included, we will try. The volume of mail makes personal answers or appraisals impossible. Write to Kovels, Lawrence Journal-World, King Features Syndicate, 888 Seventh Ave., New York, N.Y. 10019.
Copyright 2018 The Lawrence Journal-World. All rights reserved. This material may not be published, broadcast, rewritten or redistributed. We strive to uphold our values for every story published.