Serre Chevalier, France — Dozens of Serre Chevalier ski instructors glided down the tricky "Luc Alphand" run, gradually forming a huge "60" with their torches held aloft in the freezing night air of late December.
The torchlight parade and dazzling fireworks that followed marked the 60th anniversary of the start of cable car service in this ski resort in the southern French Alps.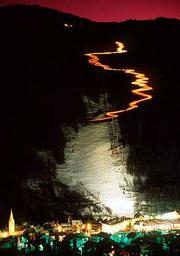 Serre Chevalier, a series of ski towns linked by a hefty 77 lifts and 155 miles of runs, doesn't have the name recognition of Val d'Isere, Chamonix or Les Trois Vallees.
But if you're looking for plenty of proud tradition, great skiing, fine atmosphere, friendly people and lots of variety, give it a try.
One Internet guide to Alpine skiing even calls Serre Chevalier "one of France's most underrated ski resorts" and says it "deserves to be better known."
This season's start was a little rocky, as far as snow was concerned. The ski instructors' 60th anniversary torchlight parade on Dec. 22 down the "Luc Alphand" run, named after the 1997 World Cup winner and local hero, was on artificial snow.
However, by early January, real snow was beginning to cover the runs in this area that reaches up to 9,240 feet.
"I can assure you that Serre Chevalier is a very special place for renewal and relaxation," Alphand says in a welcome note to visitors. "This mountain, where the snowflakes already have the flavor of the south, is sure to bring you much pleasure and enjoyment."
Something for everyone
Some ski areas are renowned for their size; others are famous for their old-fashioned architecture or for their beautiful scenery.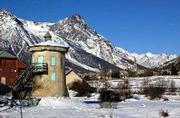 Serre Chevalier, (pronounced sair-shuh-VAL-yay) doesn't rank at the top of any of these categories, yet it should by no means be overlooked.
Briancon (pronounced BREE-ahn-soan) is the largest town in the Serre Chevalier area, if you want to orient yourself on a map.
The three other main villages are Chantemerle (marked as Serre Chevalier 1350); Villeneuve-La Salles des Alpes (Serre Chevalier 1400); and Monetier Les Bains (Serre Chevalier 1500).
The towns are spread along one long valley, located about 435 miles southeast of Paris.
With 111 runs, Serre Chevalier has something for all skiers and snowboarders to choose from.
Serre Chevalier calls itself the area "for everyone who thinks large! For everyone who wants more!" Fairly moderate prices make it that much more attractive.
You have a choice of 13 black (very difficult) runs throughout Serre Chevalier. Try the exciting "Isolee" or the long "Tabuc." The "Casse du Boeuf," leading down to Villeneuve, is also very nice. Of course, the black "Luc Alphand" run that leads down to Chantemerle cannot be missed.
Intermediates will always have fun since Serre Chevalier is best suited for them. A beautiful network of 54 red (difficult) runs is spread throughout the area. Check out the "Aya" at Monetier Les Bains, a long flowing run that will never bore you.
Another great red is the "Draye" at Chantemerle. Briancon, which is also lift-linked, has its own fine variety of red slopes.
Beginners are well taken care of in the whole area, with several starter slopes and beginner areas, such as the "Grande Alpe" at Chantemerle. Briancon has a beginner area at the mid station of its cabin lift.
You can fly to Lyon or Marseille in France and take a bus, or you can land at Turin airport about 70 miles away in Italy. You can also take the high-speed TGV train from Paris for 4 1/2 hours to Oulx just over the border in Italy, and take local transportation to Briancon from there. Perhaps the simplest way is to take the overnight train from Paris, a trip of about 10 hours to Briancon. From there cabs and buses take you to the respective towns and villages.

The ski season generally runs from December into April. In late January and mid-March, all the elements should be at their best.

Adult lift ticket prices, for the whole Serre Chevalier area, range from $26.25 for one day to $133.50 for six days. A six-day pass for a child (ages 6 through 12) costs $95.25. Bring a passport-size picture; depending on the length of your stay, it may save you a couple of minutes when buying the pass.

All towns have a range of accommodations, from small Alpine hotels to apartments. Most apartments rent for a week at a time, from Saturday to Saturday, with very few exceptions. It is preferable to stay near the ski lifts. Otherwise you will have to hike across town every morning and afternoon. A ski bus system makes the circuit of the area, with a pickup every 20 minutes.

There are various ski schools to choose from, including the Ecole du Ski Francais; the Ecole de Ski Evasion; the Ecole de Ski Buissonniere; and a school called Axesse. All offer lessons in English.

The ski area's Web site is www.serre-chevalier.com. The general e-mail address is contact@ot-serrechevalier. fr. The e-mail address for reservations is resa@ot-serrechevalier.fr. The telephone number for the central tourist office is: country code 33 for France, followed by 4 92 24 98 98. Almost everyone who picks up the phone will speak English. The mailing address for the Chantemerle tourist office is: Office de Tourisme, 05330 St-Chaffrey France.
Serre Chevalier's system includes 19 chairlifts, two cable cars and seven cabin lifts, plus a wide array of Poma lifts.
Another plus of the area is its very user-friendly liftpass system. Just put the liftpass in your left jacket pocket and you'll never have to take it out, since the electronic machines can read it easily.
A six-day liftpass for the whole area will cost you $133.50 for adults, and $95.25 for children.
Beyond the slopes
Chantemerle and Villeneuve are the places to stay if you want skiing convenience, since you're never very far from the ski lifts. Monetier has more rustic charm and is therefore more suited for visitors wanting to enjoy a traditional Alpine vacation.
The towns are not very far apart and are served by a bus that runs every 20 minutes. Villeneuve is about a 10-minute ride from Chantemerle, while Monetier is about a 20-minute ride.
All towns and villages in Serre Chevalier offer plenty of hotels, restaurants, grocery stores and probably more ski shops than you can count. As in many top-quality European areas, the shops tend to rent out relatively new, late-model skis and boots. The rental snowboards are also of fine quality.
If you need lessons, you have plenty of variety. There is a whole array of ski schools in Serre Chevalier, including the Ecole du Ski Francais; the Ecole de Ski Evasion; the Ecole de Ski Buissonniere; and Axesse.
Most ski instructors speak English and Italian.
Serre Chevalier also has a wide range of activities for nonskiers, including ice skating, indoor swimming, fitness facilities, entertainment programs and movies. Or you can just take a pleasant walk through Monetier or Briancon to take in the sights.
Briancon, an old fortified town, is certainly worth a visit. Its steep streets and range of shops and restaurants create a great ambiance beside the 18th-century ramparts.
Monetier is the probably the prettiest town, with its old town squares, traditionally built Alpine houses and church, with its old-fashioned Alpine interior and wooden plank floor.
The region has beautiful woodwork, including small household items, that can be found in numerous stores. The local cuisine is also very delicious. Try the raclette, a whimsical dish of melted cheese, potatoes, vegetables and bits of meat, which is especially good in this region.
Copyright 2018 The Associated Press. All rights reserved. This material may not be published, broadcast, rewritten or redistributed. We strive to uphold our values for every story published.