Paper or plastic? Regular or decaf? Smoking or non? There's no getting around it choices are a part of everyday life.
Homeowners make many decisions about homes, too. No matter if the house is under construction or in the process of being updated, one decision to be made is the type of floor covering to use carpet, wood, perhaps tile?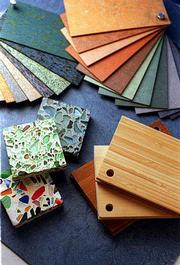 "Most people have some sort of idea what they want when they come in," said Jana Flory, design consultant with Kring's Interiors, 634 Mass. The choice depends on the room itself, the desired look and feel, and, of course, cost.
"Ceramic tile is the most durable of all floor coverings," Flory said, but also one of the most expensive. It's ideal for kitchens, bathrooms and entryways.
Ceramic tile is installed over concrete board, which allows the subfloor beneath it to expand and contract without affecting the tile. Homeowners generally can seal the grout between newly laid tiles within 48 hours.
With normal wear and tear and correct installation, Flory said tile flooring is not likely to crack. However, dropping a heavy object, like a large cast-iron pan, may damage a tile floor.
"Keep a few extra tiles for repair," she said.
Weekly cleanup for ceramic tile is simple only a mop and plain water. Flory cautions against the use of commercial cleaning products.
"They contain a wax product, which makes the tile look dirty," she said.
So what's the downside to ceramic tile?
"It's not one of the warmest surfaces," Flory said.
Natural inspirations
For a floor covering with more warmth and durability similar to tile, consider wood flooring. It's suited for living rooms and bedrooms.
But if the cost of wood flooring is too steep for your budget, laminate may be a good substitute.
"Laminate flooring can be made to look like wood or ceramic tile," Flory said.
This imitator is less expensive than the real thing and is more durable than wood because it is harder to scratch or dent. Laminate flooring is also simpler for the homeowner to install.
A fairly new product is cork flooring.
"It is a very warm, very resilient product," Flory said. Sold in 1-foot by 3-foot tongue-and-groove planks, cork is installed over an existing floor, creating a "floating" floor.
Cork flooring is ideal for exercise rooms, living rooms and kitchens. Its polyurethane finish gives it a warm glow and makes cleanup with a dust mop a snap.
The cork is manufactured from the bark of trees, which heal and produce more bark.
"It is a green product," she said. "It's renewable."
The softer side
Carpeting, a longtime floor-covering favorite, is a familiar choice to many homeowners.
"Nylon fiber carpets are the most popular and most durable," said Dale Smith, certified flooring executive with Bud Jennings Carpet One, 29th and Iowa streets. "They are used extensively in residential and commercial buildings."
Polyester fiber carpets resemble nylon fiber and are less expensive. They are good for use in bedrooms. Wool carpets, a natural option, are costly to manufacture and thus are the most expensive yarn.
Because carpets are made from fibers, they need cleaning just like our clothes do.
"If you care for it and clean a carpet properly, it will last 15 years," Smith said. Yet "the average consumer changes carpet every seven to 10 years."
The padding over which carpeting is placed affects its longevity, and can affect some people's health. Pads made of recycled products can cause problems for people with allergies, while solid foam pads generally do not.
The up-and-down movement caused by walking over too thick padding eventually damages the carpet backing.
"With carpeting, thicker (padding) is not better," Smith said. "You need something supportive of carpeting. A good pad will do that."
Carpeting has changed over the years, according to Lynn Hallett, design consultant with Anderson Interiors Inc., 601 Kasold Drive.
"The quality of carpet is not as much a concern today because of technology," Hallett said. "With technology today, we are looking at premium yarns."
Typically, that translates into carpets that resist stains and provide years of wear.
Well, the easy part was learning the facts about floor coverings. Now comes the hard part making the choices.
---
Carol Boncella is education coordinator at Lawrence Memorial Hospital and home and garden writer for the Journal-World.
Copyright 2017 The Lawrence Journal-World. All rights reserved. This material may not be published, broadcast, rewritten or redistributed. We strive to uphold our values for every story published.