On January 31, the exhibition gallery at the Kenneth Spencer Research Library will present "Langston Hughes: A Voice for All People" featuring selected items from the library's extensive Langston Hughes collection. Aproximately 80 pieces, many signed by Hughes, from the collection of over 300 pieces will be on display in the 3rd floor gallery.
The library began collecting publications, books, manuscripts, sound recordings and other examples of Hughes memorabilia in 1957 when Donald C. Dickinson began making aquisitions for the Hughes collection, Dickinson corresponded with Hughes who then began an ongoing practice of inscribing and sending a wide variety of items to the Library. This also led to Hughes' first visit to speak at the University of Kansas in 1958.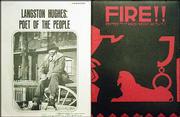 Since then, the library has augmented Hughes' contributions to the collection with purchases of other collections.
The Exhibition will run through May 15th. Gallery hours are Monday through Friday from 8 a.m. to 5:00 p.m. and Saturdays from noon until 4:00 pm. The Gallery will be closed on March 23 and May 11.
For more information about the Spencer research Library visit http://spencer.lib.ku.edu
Copyright 2018 The Lawrence Journal-World. All rights reserved. This material may not be published, broadcast, rewritten or redistributed. We strive to uphold our values for every story published.