Tarin Kot, Afghanistan — Afghans accused U.S. forces Saturday of attacking a school and killing people sheltering there in a raid the Pentagon said targeted Taliban fighters.
According to Pentagon accounts, special forces attacked two enemy compounds Wednesday night at Hazar Qadam, about 60 miles north of Kandahar, and killed about 15 people in a firefight. One U.S. soldier was wounded in the ankle. Twenty-seven prisoners were taken.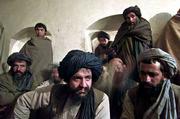 U.S. officials initially described the target as an al-Qaida "leadership facility," but said Friday that the people there were Taliban fighters. They described the compounds, located a short distance from one another, as a munitions store holding hundreds of mortar rounds, rockets, rocket-propelled grenades and launchers, and more than 500,000 rounds of small-arms ammunition. They were destroyed by fire from a C-130 gunship.
But villagers in Uruzgan province, where the raid took place, said Saturday that those killed were neither Taliban nor al-Qaida fighters, but local people sent to negotiate the surrender of weapons from Taliban in the area.
In Tarin Kot, a town between Kandahar and the provincial capital, also called Uruzgan, residents said a local official, Jal Mohamad Khan, sent a party of 18 men commanded by Tarin Kot resident Haji Sana Gul to negotiate with Taliban forces on Wednesday.
They succeeded in confiscating a large cache of weapons and trucks, said Bari Gul, the brother of Haji Sana Gul. The Taliban apparently left the area, and Haji Sana Gul's men spent the night in a local madrassa, or Islamic school, with dozens of other people.
U.S. special forces swooped in around 3 a.m. Thursday and shot and killed many people in the madrassa, including Haji Sana Gul, then called in an air strike, Bari Gul said. Two of the dead were later found with their hands tied behind their backs, he said.
Special forces also went to a district building about a mile away and killed three more people, Bari Gul said.
Pentagon spokesman Maj. Mike Halbig said Saturday that the events described by the Afghans "don't fit with any of the information we have" about Wednesday's raid. He said U.S. special forces are trained to make sure they raid the correct targets.
Copyright 2018 The Associated Press. All rights reserved. This material may not be published, broadcast, rewritten or redistributed. We strive to uphold our values for every story published.