Sunday worship services at Christ Community Church typically attract about 650 people, but newcomers don't have much of a chance to get lost in a sea of faces.
The Rev. Bill Hurlbutt, the pastoral staff and the congregation go all out to make visitors and other guests feel right at home at the church, 1100 Kasold Drive.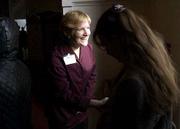 There's a welcome center set up outside the sanctuary that offers information about church ministries. Greeters distribute church bulletins, which contain forms that first-time visitors can use to leave their telephone numbers and request more information about the church.
So eager are Hurlbutt and his wife, Stacey, to embrace newcomers that they often don't wait to read the information forms that visitors have filled out.
"We tear into them right after services," Hurlbutt said. "I also like to leave a message on their answering machine before they get home from the church. It's amazing the reception you get they're shocked that somebody makes the effort to contact them so fast."
Acts of inclusion
After a third visit to Christ Community Church, newcomers receive a small gift basket at their home. And after visitors feel like they've settled in a bit, they can attend an informal class called "Encountering Christ Community" that meets at Hurlbutt's home, where they can visit and hear about the church's vision.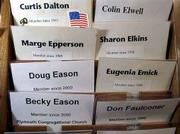 Why the big effort to reach out to visitors?
"It's all about including and inviting. So many churches have the problem that they're good at inviting people to visit, but they're not so good at including people (in activities)," Hurlbutt said. "Newcomers often feel like they're on the outside. We try to foster an oasis of community in which people feel they belong."
Hurlbutt's church is one of many Lawrence congregations that strive to be friendly and inviting to newcomers. Knowing how intimidating it often is to attend a house of worship for the first time, they do all they can to eliminate the hurdles.
That's a tall order for Corpus Christi Catholic Church, 6001 W. 15th St.
"The downside of being so big is it's hard to identify who's new. We have 3,000 members and three weekend Masses," said the Rev. James Shaughnessy. "We try there's a welcoming committee but I'm sure we still miss a lot of people."
The committee organizes an event every month or two for newcomers who have registered with the parish, so they can get together, meet others and ask questions about Corpus Christi.
Shaughnessy said houses of worship can play an important role in forging links between people and creating a sense of community.
"There's just a human need to bond with others and feel a part of something," he said.
An open welcome
Nancy Lott is a big believer in making guests and visitors to Plymouth Congregational Church, 925 Vt., feel like they've come to the right place.
"Basically, that's what Christ asked us to do extend an invitation and hospitality," said Lott, who serves as Plymouth's membership associate. "We try to reach out to people, but we don't pressure them to believe as we do or even to join our church. We just want them to feel welcome when they come here."
Her job is to identify people who are new to Plymouth, answer questions they might have and hook them up with appropriate church ministries.
"Later I contact them by phone. I also send them a note and a copy of our church newsletter, so they can see what's going on at Plymouth," Lott said.
"Most people are very happy to have some personal contact, because it's often awkward when you're in a church for the first time. Almost everybody appreciates that."
A rack in the church's north lobby contains printed information about Plymouth, its mission and the United Church of Christ, as well as past sermons by the Rev. Peter Luckey, senior pastor.
Outside the sanctuary, two handmade wooden stands hold the name badges of hundreds of Plymouth members and friends. The badges, which many people wear at services, also say how long each person has been a church member.
That kind of information helps make a big congregation like Plymouth's which has 1,200 members feel more homey to visitors.
"That is people's fear, that they will just be lost in the crowd," Lott said. "I think Plymouth has done a good job of having that personal touch."
Copyright 2018 The Lawrence Journal-World. All rights reserved. This material may not be published, broadcast, rewritten or redistributed. We strive to uphold our values for every story published.