Ruff Ryders
"Ryde or Die Vol. III: In the 'R' We Trust"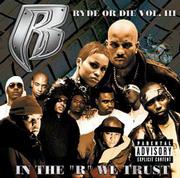 There's no denying that Ruff Ryders are one of music's true supergroups, a loose collective of rap all-stars who could easily stick to solo pursuits if they felt like it. While once-unknown RR members, such as wordsmith Jadakiss, have used the group as a launching pad for their own platinum careers, high-profile founders like DMX, Eve and The Lox were already established when the Ryders issued their much-praised 1999 debut, "Ryde or Die Vol. 1." After a fairly ho-hum follow-up in 2000, the group is back with the third installment, "In the 'R' We Trust." Ruff Ryders records are known for bringing out hip-hop's A-list: Jay-Z, Big Pun and Jermaine Dupri are but a few of the artists who've appeared on previous outings. For Vol. 3, the marquee names are more scarce, with only Ludacris and a few others raising an eyebrow of interest. The Atlanta MC makes an appearance on "Some South ****," spawning a verbal hailstorm good enough to overcome the track's ridiculous, kiddy-corn chorus, but the disc's mostly tepid fare such as Tha Eastsidaz unbelievably played-out gangsta-isms on "Eastside Ryders" is just depressing. While the Ryders' latest is a showcase for high-profile producers Swizz Beatz, Timbaland, Irv Gotti and Mike City, the biggest MCs in the family only make one appearance each, resulting in a number of missed opportunities. Vol 3 could've been a superstar effort with some of rap's biggest names collaborating in new ways, but most of the heavyweights seem conspicuously absent. Tracks featuring Ja Rule, Trick Daddy and Xhibit were allegedly excised from the final song selection in favor of a minor leaguers who have little to add to the hip-hop lexicon, leading one to wonder whether expensive royalty payments didn't play a role in the casting. There are a few notable exceptions. Eve's latest you-cheated-on-me anthem, "You, Me & She," works well enough, and the album's first single "They Ain't Ready," which deftly pairs Jadakiss and Bubba Sparxxx is undeniable, with Timbaland's sputtering, paint-splattered production at its buttercrunk best and a chorus that sticks around for days. Also promising is the album's opener, "Dirrty," which matches Drag-On and Petey Pablo (who continues to remind everyone within earshot that he's from North Carolina). Sadly, what might've been an interesting moment turns out to be yet another electronica-influenced ode to the South that sounds more tired than Rumpelstilsken on a couple shots of cough syrup, a fair description of the overall listening experience. The Ryder family has become a dysfunctional one, with too many absent mothers and deadbeat dads to make rap fans feel at home.
Copyright 2018 The Lawrence Journal-World. All rights reserved. This material may not be published, broadcast, rewritten or redistributed. We strive to uphold our values for every story published.