Washington — John Walker Lindh, who allegedly fought for the Taliban, will appear this morning in federal court in Alexandria, Va., to respond to charges that he plotted to kill American soldiers in Afghanistan and aided terrorists, law enforcement officials said Wednesday.
Lindh, guarded by FBI agents, arrived Wednesday evening aboard a military KC-10 air tanker from Kandahar, Afghanistan, said a government official on condition that he not be identified.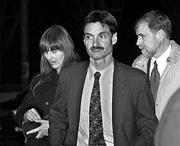 Once on U.S. soil, Lindh was handed over to the U.S. Marshals Service under heavy security. Officials would not confirm where he is being detained. Normally, it would be at the Alexandria Detention Center just south of the capital.
The 20-year-old from Marin County, Calif., faces allegations that he conspired to kill Americans outside of the United States. He's also alleged to have provided material support to Osama bin Laden's al-Qaida terrorist network and to have been involved with Harakat ul-Mujajideen, an outlaw paramilitary group linked to bin Laden.
James Brosnahan, a prominent San Francisco lawyer hired by Lindh's parents, flew to Washington to meet Lindh for the first time. A spokesman for Brosnahan's law firm, Morrison & Foerster LLP, said Walker's parents also flew to Virginia to see their son, who was has been in U.S. military custody for about 45 days.
Lindh's parents have told reporters that he converted to Islam at age 16. After studying the Koran in Yemen and Pakistan, Lindh allegedly joined al-Qaida and attended a terrorist training camp in Afghanistan.
He surrendered to northern alliance fighters near Kunduz, Afghanistan, in late November and was taken to a makeshift jail at Qala Jangi. After an uprising at the prison in Mazar-e-Sharif in which Lindh was wounded, he was treated by U.S. military medics and taken into custody by U.S. Marines.
According to the criminal complaint filed in Lindh's case, he told FBI interrogators that he had learned in June from a teacher at an al-Qaida terrorist camp that bin Laden had sent suicide bombers to the United States. Lindh also allegedly told FBI agents that he had met with bin Laden, who he said thanked him for "taking part in jihad," or holy war, against the United States.
Lindh's parents have protested that U.S. authorities allowed their son no access to a lawyer during his interrogation. Atty. Gen. John Ashcroft has said Lindh waived his right to an attorney before making his statements about his al-Qaida training and fighting with the Taliban.
"Terrorists did not compel John Walker Lindh to join them. John Walker Lindh chose terrorists," Ashcroft said Wednesday.
Copyright 2018 The Lawrence Journal-World. All rights reserved. This material may not be published, broadcast, rewritten or redistributed. We strive to uphold our values for every story published.