Dallas — A major food distributor said Monday that it had cut off most shipments to Kmart after the troubled discounter failed to make its regular weekly payment for deliveries.
Fleming Cos. said Kmart, its largest customer, owes $78 million.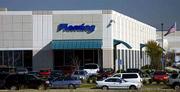 Fleming is the latest large supplier to have stopped shipping to Kmart to reduce its risk if the company files for Chapter 11 bankruptcy protection. Scotts Co., a maker of lawn and garden products, decided last week that it would delay shipments to Kmart.
While many smaller suppliers also have stopped shipping or have demanded cash on delivery, the latest development poses the biggest crisis for the discounter, whose grocery offerings drive traffic. Kmart already is faced with increasingly bare shelves.
"It's one thing if you don't have T-shirts or lawn products. You can live without the deliveries for a week or so, but you can't sell yesterday's wilted lettuce," said Kurt Barnard, president of Barnard's Retail Trend Report, based in Montclair, N.J. "The company is fast approaching the end of its available options either to file for bankruptcy or extend its financing.
"Something has to happen very fast."
Barnard said that Fleming's action could further undermine confidence among vendors, prompting more suppliers to stop shipping to Kmart.
Kmart has a store and distribution center in Lawrence.
Kmart chief executive Charles Conaway said Monday that the company was negotiating a plan to resume shipments from Fleming, once Kmart officials work through "financial issues and are able to provide Fleming with adequate assurance of payment."
Fleming has been Kmart's exclusive distributor for food and other consumables since February.
Copyright 2018 The Associated Press. All rights reserved. This material may not be published, broadcast, rewritten or redistributed. We strive to uphold our values for every story published.