They buy SUVs, Camrys and Beemers today, but what will baby boomers be driving in retirement?
Not the Buicks and Cadillacs their parents have proudly driven. More likely an updated SUV, or perhaps a car still to be made and marketed that their children or grandchildren will be driving.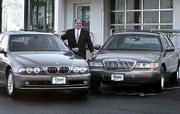 People who design cars or track the industry say boomers will want the same kinds of cars they drive now vehicles that look young and hip and perform.
Basically, they'll want vehicles that allow them to live the boomer lifestyle and look great while doing it.
"They think they're the leading edge and on the current edge of fashion and utility trends," said Steve Kalafer, who has 26 car franchises in New Jersey, and who has sold thousands of cars to boomers over the years.
They'll want to remain on that edge, which means car brands associated with today's retirees will be hard to find in boomer driveways. Among them: Buicks and Cadillacs, plush sedans that were symbols of their parents' achievement.
To boomers' parents, "a Cadillac says, 'I have money'; a Buick says, 'I make money, I'm doing all right,'" said Bill Ochalek, manager of the Apex Group, a General Motors design unit.
Boomers have been making those kinds of statements for years, having achieved financial security at a much younger age than their parents. But they've used status cars like Mercedes, BMWs, the Lexus, Acura and high-end SUVs to get their message across.
Shifting aging into reverse
"The big luxury sedans from Lexus, Acura and Infiniti, to a lesser extent, are the symbols of success. They're what most of my peers are going to be comfortable spending their golden years in," said Kevin Smith, editor in chief of Motor Trend magazine.
Ochalek described boomers as "a very downward aspirational group," likely to be drawn as they retire to cars driven by younger people.
Smith noted that this already has happened. The Mazda Miata "targeted kids in their mid 20s, but the ones who bought it were people in their mid 40s" which lends credence to the theory that boomers are going to be buyers of youthful cars, he said.
Kalafer expects boomers to continue to be the fickle buyers they've been for years; they don't tend to buy a nameplate and stick with it, car after car.
"Brand loyalty is simply non-existent compared to previous generations," he said. "The premium customers will drop off their leased vehicles, say it's the best car they ever drove and leave in a different brand.
"It's going to be an interesting time."
One thing that is certain is that boomers as retirees are likely to own more cars than previous generations. They'll want something practical, like a next-generation SUV, but probably also something fun, like a sportscar.
Retro connections
Ochalek pointed out that many boomers have been drawn to new versions of classic cars from their youth, including the updated Volkswagen Beetle. That's prompted automakers to revamp cars such as the Ford Thunderbird.
"We're finding it within our economic wherewithal to buy some of our childhood dreams," Ochalek said. "It gives automakers a tremendous opportunity to play to that."
Designing cars for older boomers is a priority for automakers, and some of the cars and concepts they introduced at the North American International Auto Show this week bear that out.
GM introduced a concept it calls Autonomy, a fuel cell-powered car that would eliminate the need for traditional steering mechanisms, making it much easier to drive. Chrysler introduced the Pacifica, which looks like a station wagon but has three rows of seats, much like a minivan or SUV.
Car designers also are looking at ways to make cars more convenient and comfortable for older drivers, said Bill Seltenheim, an analyst with Autodata Corp. in Woodcliff Lake, N.J.
"They're changing the way seats are designed, even the door opening, to make it easier to get in and out of the car," he said.
The forecasters say SUVs are likely to become more car-like, with better stability, but keep the SUV look, roominess and all-wheel drive.
At Chrysler, where Jeeps helped create the SUV trend, "we think that baby boomers will stick to their SUVs as long as they are becoming more and more comfortable and more flexible and more versatile," said Sjoerd Dijkstra, a spokesman for Chrysler's design quality and technologies unit.
But Seltenheim predicted a move away from SUVs.
"Part of the resurgence in the station wagon segment is because it's more comfortable to get back into a car, and they still have a lot of carrying capacity," he said.
That's also the expectation of companies that have started bringing back station wagons including luxury nameplates such as Mercedes.
Copyright 2018 The Associated Press. All rights reserved. This material may not be published, broadcast, rewritten or redistributed. We strive to uphold our values for every story published.