Mark Foland had been looking forward to this for years.
"Scuba diving has been an interest of mine," said the 19-year-old Baker University sophomore. "It's always been on my list of things to do."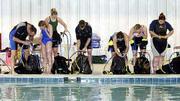 Foland was one of 14 Baker students who took a course this month, between college semesters, to earn their open-water dive certification from the Professional Association of Diving Instructors.
At the end of their classroom and pool instruction at Blue Planet, 1301 E. 25th St., the students headed south to explore the sparkling waters of the Bahamas for a week. The Baker group left Kansas Friday and will return a week later.
During the trip, they'll receive the initial certification needed to scuba dive on their own in open water.
"With this training, coupled with the trip we're going to be taking, it's all I could ever ask for," Foland said a few days before the Baker students left town.
That's the kind of thing Chad Jackson loves to hear.
Jackson, 30, is the owner of Blue Planet, and he enjoys nothing more than getting new people interested in the sense of discovery that scuba diving offers. He's been diving since 1984, serving as a scuba dive instructor since 1991 and training other instructors since August.
"Ninety-nine percent of what we teach here is open-water dive certification," Jackson said. "We serve about 400 divers a year."
He's sold on the sport.
"The neatest thing about scuba diving is realizing that 72 percent of the world is underwater," he said. "Every time I dive, I always see something new."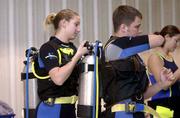 Thanks to Jackson, more people in Lawrence are taking the plunge. They come from all walks of life and ages from 8 years old to 83 years old so far.
Blue Planet's 66,000-gallon pool ranges from 4 feet to 10 feet deep. Potential divers don't need to be in amazing physical condition or have the technical knowledge of Jacques Cousteau to participate, he said.
"You don't have to be a good swimmer to be a good scuba diver," Jackson said. "You just have to be comfortable in the water and want to have an adventure."
Jackson teaches everything from basic open-water scuba diving to technical, mixed-gas diving for professionals.
Blue Planet offers three courses to earn open-water diving certification.

A standard course meets from 6:30 p.m. to 9:30 p.m. two times per week for three weeks. It features academic work and contained-water dives. It costs $119.The executive course covers all academic classwork and the confined-water training in a weekend. It costs $179.Owner Chad Jackson offers private diving instruction for $229. He'll teach it to customers any time they're available.For more information, call 749-0500.
Blue Planet provides divers with everything they need except for a mask, snorkel and fins. Customers must buy this gear, because it has to be individually fitted.
To finish training for open-water certification, Jackson typically takes students to Stockton Lake, Mo., about 2 1/2 hours from Lawrence by car. It's the closest lake that has decent visibility, according to Jackson.
But all the diving doesn't take place in the pool or a nearby lake.
Blue Planet has been taking two trips per month to the Florida Keys. The trips generally take place over a weekend, with six to eight divers participating each time.
Jackson or a member of his staff of six certified instructors also takes groups of divers on four to six trips a year to more exotic locales such as Cozumel, Bimini and Hawaii.
Scuba diving, he said, is an activity everybody can enjoy.
"I teach tiny people, skinny people, big people that's why it's great for families," he said. "Diving's a blast. I can't tell you how much fun it is."
Copyright 2018 The Lawrence Journal-World. All rights reserved. This material may not be published, broadcast, rewritten or redistributed. We strive to uphold our values for every story published.