Alex Palazzo's theory is this: Big problems result when people fail at math.
"If you're the guy who counts down the space shuttle, and you don't get it right, the guys will get ticked," said Palazzo, a fourth-grader at Hillcrest School.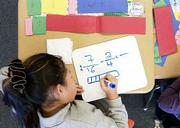 Counting down from 10 is child's play for Palazzo and his peers at Hillcrest, 1045 Hilltop Drive. The school's fourth-graders have consistently outperformed children at other Lawrence elementary schools on the state's math assessment.
Hillcrest is the only school in the Lawrence district to attain the the elusive standard of excellence on state math test in back-to-back years.
"We have excellent teachers, and they're on the same page," Hillcrest Principal Tammy Becker said.
The 340-student school has a program that focuses students on 10 problem-solving strategies. They're common-sense ideas: Look for patterns, make a table, draw a picture, guess and check, work backward and so on.
Students lean heavily on these well-rehearsed tactics when taking math assessments, Becker said.
"They spend a good deal of time on that," Becker said. "The state math assessment is written along those lines."
On that Kansas exam, 76 percent of Hillcrest's fourth-graders performed at the advanced or proficient levels, the two highest, in 2001. An average of 46 percent of Lawrence elementary students hit that mark, slightly above the state average of 41 percent.
The achievement at Hillcrest is more astonishing because the district has no math textbook or packet of official curriculum materials to guide math instruction in kindergarten through second grade.
| | | |
| --- | --- | --- |
| | | |
| | For 6News video, more photos, links to additional Web resources, an online poll and community discussion, or to ask Supt. Randy Weseman a question concerning how reading, writing and arithmetic are taught in Lawrence, go to 3Rs.ljworld.com. | |
| | | |
It's a situation the district is working this year to correct, but until then individual teachers will continue to be asked to interpret state math achievement tests and cobble together ways for their students to do well at them.
"It's been up to (teachers in each) building to put a curriculum together," said Kathi Davis, a second-grade teacher at Hillcrest. "Those that did are finding success."
In Davis' class, her 21 students study math daily. They get into age-appropriate elements of the 10 strategies.
The objective in second grade is to bring students to the point they can add and subtract proficiently no more finger-counting and begin to examine and solve problems, choose strategies, and double-check answers.
Students at this age aren't expected to sit around listening to lectures on math theory. Their attention span requires active learning. On one day, Davis' students were divided into small groups and rotated through "centers." One center required students to write out a Saturday morning TV viewing schedule of their favorite shows, which involved graph and time concepts.
At another center, students Abel Plotnikov, Robert Stacey and Celine Lussier honed estimation skills. The objective was to guess how many times they could apply a rubber stamp to a piece of paper in 60 seconds.
| | | |
| --- | --- | --- |
| | | |
| | Here's a look at the rest of the 3Rs series: Sunday in the J-W A look at the challenges of expanding the individual schools' success stories to all students in the district. | |
| | | |
"I estimated 20," Stacey said.
"You got 80!" Plotnikov squealed.
"You were way off," Lussier added. "Mrs. Davis says that's how you learn."
These are the kind of hands-on lessons students are accustomed to at Hillcrest. Math is such a part of their daily experience that they don't mind quizzes.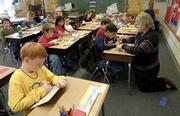 "I like the four-minute challenge," Plotnikov said. "That's with 50 problems. You try to do them in four minutes."
Integrated learning
Math instruction at Hillcrest filters through other areas of the curriculum, including reading and writing. For example, Davis found a book that illustrated numbers one through 10 with pictures of Japanese landmarks and culture.
Her idea was to extend her children's appreciation of math by making use of the school's diverse student body. Dozens of Hillcrest's students are from other nations because many of their parents are either students or faculty at Kansas University.
While Davis read the counting book, second-grader Chiori Takahashi of Japan wrote her native symbol for each number on a blackboard.
"Math is a journey," Davis said. "There's more to math than numbers."
In fourth-grade teacher Lisa Melton's class, the importance of math is underscored by inclusion of multiplication, and fraction and decimal information on each student's desk name tag. These tips share equal billing with the alphabet and offer students a daily reminder of the high standards they are held to in math.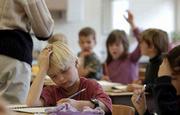 Melton's fourth-graders will take the state's standardized test in math during March, and she's vowed to make certain they are ready. They will practice the testing format.
"Teachers look at the standards, search for curriculum that mixes well with it," she said. "We make sure tested items are in the curriculum and that the language used for questions is the same."
For example, teachers are clear about what they mean by "average" or "mean." It will make a difference on the test. They make sure students understand the word "rotation" on the test represents the same concept as "turn" in class.
"We modify the instructional language to help students do well on the math," Melton said.
Adjusting methods
Previous test results offer insights to Hillcrest teachers about changes that must be made to help the next generation of test-takers. A weakness in probability and graphing detected in 2001 is being addressed. Instead of continuing the practice of teaching these concepts toward the end of the school year, Melton has worked on the ideas throughout the school year.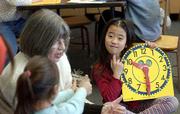 "This integrated math should make a difference," she said. "If it doesn't, we'll try something else."
Cindi Rood, a sixth-grade teacher at Hillcrest, said her students also work on math daily. At this level, she said, teachers insist students concentrate on more than the right answer.
Following the proper route to the correct answer is given just as much weight as providing the correct answer, she said.
"It's a trend in math," she said. "Students need to explain how they got it, instead of just giving the answer. In this way, we're developing better problem-solvers."
Rood said students' parents play a part by helping convince children that solid math skills are part of being a well-rounded student.
"There's such an academic culture at Hillcrest," she said. "Math is a big part of that. It feels cool to be a good student around here."
Copyright 2018 The Lawrence Journal-World. All rights reserved. This material may not be published, broadcast, rewritten or redistributed. We strive to uphold our values for every story published.