LINCOLN, NEB. — It didn't take Oklahoma long to catch Nebraska with the way the Sooners were playing defense.
The fifth-ranked Sooners held the Cornhuskers without a field goal for a 12:49 span over the end of the first half and start of the second to pull away for a 78-51 victory Wednesday night, their 13th straight.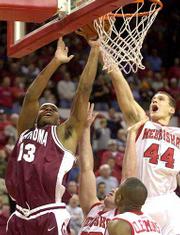 "We really defended the last five minutes of the first half and the first part of the second half," coach Kelvin Sampson said. "That's about as good as we're going to play defense."
Ebi Ere scored 16 points and Aaron McGhee had 13 points and 10 rebounds for the Sooners (14-1, 3-0 Big 12), who shot 50 percent (31-of-62) from the field while holding Nebraska to its worst shooting percentage ever.
"Nebraska was a good shooting team. That's how we scouted them get a hand in their face and bother their shots," Ere said. "It's kind of hard to get shots when you've got hands in your face."
Brian Conklin had 14 points and John Robinson added 10 for Nebraska (8-7, 1-3), which had never lost by more than 25 points in the 26-year history of the Devaney Center.
Hollis Price added 13 points and Jason Detrick had 12 points for Oklahoma, which hasn't won 13 straight since opening the 1987-88 season 14-0. The winning streak goes on the line Saturday when the Sooners visit No. 4 Kansas.
"We've had some really good teams in the last three or four years. This team, though, is different," Sampson said. "They have a temperament about them I like. They don't get too high and they don't get too low. They've met every challenge they've faced. The one on Saturday will be the biggest."
No. 21 Missouri 74, Texas A&M; 50
Columbia, Mo. Wesley Stokes, out of the starting lineup for the second straight game, scored 13 points to lead Missouri past Texas A&M.; Stokes was one of four Missouri players to score in double figures as Kareem Rush had 15 points and Arthur Johnson and Clarence Gilbert each had 12.
Baylor 73,
Kansas State 70
Waco, Texas Lawrence Roberts scored 20 points and Wendell Greenleaf added 15 as Baylor held on to defeat Kansas State.
Colorado 63,
Iowa State 61
Boulder, Colo. David Harrison had 21 points and 15 rebounds as Colorado beat ISU. Stephane Pelle had 12 points, including the game-winning shot with less than three seconds left, and grabbed 14 rebounds for CU (10-4, 1-2 Big 12).
Copyright 2018 The Associated Press. All rights reserved. This material may not be published, broadcast, rewritten or redistributed. We strive to uphold our values for every story published.