Every year thousands of new products are introduced in American grocery stores and restaurants. Every year, most of those introductions fail. Here's a preview of what may make it big on your plate or in your kitchen in 2002.
Upscale goes down market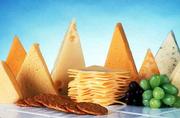 On restaurant menus, look for some high-ticket ingredients to be replaced by less costly alternatives. For example, lamb shank instead of rack of lamb, or chicken instead of duck. Look, too, for more daily special items such as filled omelets and hearty soups and stews that offer chefs an opportunity to recycle ingredients.
Organic goes mainstream
Americans will increasingly "go organic" but not where you'd expect. Organic products totaled $7.8 billion in sales in 2000, according to a report by the Food Marketing Institute, which found that 69 percent of shoppers surveyed said they bought their organic products at their primary supermarket. This was borne out by the Organic Trade Assn., which reports that mass-market supermarkets accounted for 45 percent of organic sales.
One-dish dining
With the recession officially under way, look for more meals to be prepared at home. But American diners, accustomed to the convenience of takeout meals and restaurant cooking, are even less interested now in spending a lot of time fixing dinner. That's why you'll see a steady growth in fix-it-fast meal kits and comfort food in stores, such as the new Stouffer's Slowfire Classics, Campbell's Supper Bakes and Ragu Express pasta dishes.
Even the side dish is disappearing, as consumers skip the extra step needed to make an extra dish and instead throw vegetables into one-dish meals such as stir-fries, stews and casseroles.
Super-ply panache
It's the age of "super-ply" in home cookware. The trend for pots and pans will be anything "clad," according to the Cookware Manufacturers Assn. Even the humble saucepan may be made with up to nine separate pieces of metal.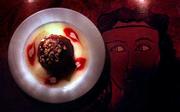 In these new pans, a stainless-steel bottom (and sometimes a stainless interior) wraps around layers of aluminum or copper. The multiple metals improve heat conductivity that stainless alone can't give. Traditional copper pans are superb heat conductors but also are expensive and time-consuming to maintain. The new pans combine the best of both worlds.
Artisan attention
The trend toward handmade, small-batch foods will continue as consumers seek higher quality. Artisan cheeses from small farms in Europe or America, rustic breads from high-quality bakeries, chocolates made by hand, even olive oil from "estates" in Italy and California all will find their way to our cupboards in 2002.
According to Howard Solganick, an Ohio-based supermarket industry consultant, "I don't know how else to put it, but once you taste really good bread, it's hard to go back to Wonder."
Dish of the year
Mac and cheese earns Good Eating's predictions as the most yearned-for dish in 2002, at least until the weather warms up again. Who can resist? Plump pasta nestled and baked with creamy Cheddar cheese sauce until the whole thing mingles and melds. Trust us, this is not just food for children.
Color craze
Maybe Heinz started the fad with green ketchup (purple has since been added). Parkay now has neon pink and blue squeeze margarine, and Dannon Sprinkl'ins includes "sparkle packets" to stir into cups for boldly colored yogurt. Behind this trend: Getting to Mommy through Junior. Expect to see more surprising hues in otherwise ordinary food products, say industry watchers.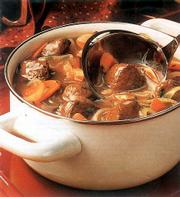 Decadence with dessert
Restaurant customer numbers and per-customer spending have sagged since the Sept. 11 tragedies, but the expense of employing a pastry chef is paying dividends for fine-dining establishments. Dessert sales have gone up in this down market, and heightened demand should continue in the coming year.
For instance, Mary McMahon, executive pastry chef at the Italian Village in the Loop in Chicago, reports a 10 to 12 percent increase in dessert orders more than a year ago. On a recent weekend, 65 percent of diners in the Village's upscale Vivere dining room ordered desserts such as chocolate hazelnut ganache tart and warm chocolate molten cake with chocolate malted gelato and deep-fried chocolate truffles.
Self-serve supermarkets
The need for speed is everywhere, especially in the supermarket and most especially at the checkout. That may explain why some customers would rather scan products themselves and why supermarkets are increasingly willing to oblige them.
"Self-scanning has grown in various pockets around the country," said Michael Sansolo, senior vice president of Food Manufacturers Institute, a trade group for the supermarket industry. "For a quick trip, it's much simpler for shoppers."
Self-scanning won't replace clerks but usually occupies one or two aisles in stores that offer it. Expect to see it grow.
Comfort food
Home cooks will continue to yearn for the foods of their memories, the things grandmother used to make: stews, meat loaf, roast chicken, mashed potatoes and layer cakes.
According to New York City industry consultant Clark Wolf, "Now cooking is comforting and when entertaining, it's no more show-off cooking; it's communal cooking."
Cooking school comeback
Across the country after Sept. 11, couples with show-off home kitchens began to take cooking classes to learn to use them, while younger couples and singles have been signing up too, hoping to eat better and more cheaply when they eat at home. Look for the trend to continue in 2002.
Expanding cookbooks
Publishers are learning that cookbook buyers want a lot more information when they wade into recipes. Check out the growing inclusion of background information, extensive glossaries, kitchen tips, supplier lists, menu ideas, wine suggestions, measurement conversion charts and other hand-holding hints. These soon-to-be-standard extras appeal not only to eager cooks but to the totally clueless.
Chill-free foods
Shelf-stable foods that don't require refrigeration will mushroom in supermarket aisles, predicts Art Siemering, editor of Noble & Associates' Food Channel Trendwire newsletter. It's another convenience-oriented cooking habit.
"We'll see continued growth among shelf-stable entrees and canned items in general," Siemering said.
Copyright 2018 The Lawrence Journal-World. All rights reserved. This material may not be published, broadcast, rewritten or redistributed. We strive to uphold our values for every story published.