An 80-acre grass fire north of Stull has area fire chiefs contemplating a request for a burn ban in Douglas County.
Firefighters from Kanwaka Township responded to a pasture fire near County Route 1023 and North 1700 Road at about 2 p.m. Monday. Fighting high winds and dry conditions, fire crews weren't able to contain the fire until it had burned a swath nearly a half-mile long and a quarter-mile wide. The fire came within a quarter of a mile of Henry's Plant Farm, 278 N. 1700 Road, but did not damage any buildings or cause injuries.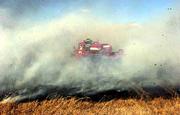 A chain saw that either created a spark or excessive heat from its exhaust was suspected as the cause of the blaze, Kanwaka Fire Chief Chris Lesser said. Lesser said that shows how susceptible the area is now to fires.
"It has just been extremely dry since November," Lesser said. "We've had no real rain, temperatures have been warm, and humidity low, and that is a formula for an easy fire."
Lesser said Wabaunsee County this week enacted a burn ban because of the dry conditions, and said he believes other area fire chiefs will consider asking county commissioners for a similar ban.
Despite the dry conditions, Lesser said this was the first significant grass fire his department has responded to since at least October.
Kanwaka firefighters received assistance from the Lecompton Fire District and the Wakarusa and Clinton township fire departments. Lesser said it took more than two hours to control the blaze and about four hours to extinguish it.
Copyright 2018 The Lawrence Journal-World. All rights reserved. This material may not be published, broadcast, rewritten or redistributed. We strive to uphold our values for every story published.