Pasadena, Calif. — Tom Hanks was a double winner Sunday as he snagged favorite actor in both the motion picture and dramatic motion picture categories during the 28th annual People's Choice Awards.
Hanks beat out fellow double nominee Denzel Washington for the honors, as well as Mel Gibson and Anthony Hopkins, each a single nominee in one of the categories.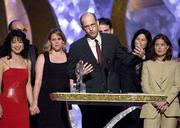 Julia Ro-berts took home the favorite mo-tion picture actress award her eighth in the category.
Singer Reba McEntire, who previously has won eight awards for musical performer, won her ninth overall award, this one for her acting role in "Reba," the new television series.
"ER" won as the favorite TV drama for the ninth consecutive year.
Garth Brooks garnered his 12th win as favorite male musical performer.
The 28th People's Choice Awards were presented at the Pasadena Civic Auditorium. The awards cover 18 categories in film, television and music.
A nationwide poll conducted by the Gallup Organization determines both the nominees and winners. No suggestions of entries or nominees are given.
Fans could also vote on the Internet in two categories favorite new television comedy and favorite new television drama.
Winners Sunday at the 28th People's Choice Awards were:Motion picture: "Shrek."Motion picture star in a comedy: Eddie Murphy.Motion picture star in a drama: Tom Hanks.Motion picture star: Tom Hanks.Motion picture actress: Julia Roberts.Male television performer: (tie) Kelsey Grammer, "Frasier;" Ray Romano, "Everybody Loves Raymond."Female television performer: Jennifer Aniston, "Friends."Male performer in a new television series: Damon Wayans, "My Wife and Kids."Female performer in a new television series: Reba McEntire, "Reba."Television comedy series: "Friends."Television dramatic series: "ER."New television comedy series: "My Wife and Kids."New television dramatic series: "Alias."Reality-based television program: "Survivor: The Australian Outback."Daytime dramatic series: "Days of Our Lives."Male musical performer: Garth Brooks.Female musical performer: Faith Hill.Musical group or band: 'N Sync.
Copyright 2018 The Associated Press. All rights reserved. This material may not be published, broadcast, rewritten or redistributed. We strive to uphold our values for every story published.