Like its dough, the reputation of Wheatfields Bakery & Cafs steadily rising.
Already beloved locally for its airy Italian ciabattina rolls, crusty baguettes and dense kalamata olive bread, the business at 904 Vt. has firmly established itself among the upper crust of America's neighborhood bakeries.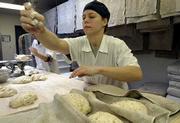 In a story that appeared in Friday's USA Today, Wheatfields is at the top of the newspaper's list of 10 best bakeries in the nation that make good, old-fashioned bread using artisan baking techniques.
"We were very surprised. We had no idea we were going to be mentioned in USA Today," said Don Fortel, general manager of Wheatfields.
"The people feel really good about working here and are really proud of the product we put out. We've always felt like we could compete with anybody."
Customers at Wheatfields, when told of the bakery's national recognition Friday, were less surprised.
"I'm here almost every day. I buy at least one baguette and one loaf of sourdough," said Mike Bornstein of Lawrence.
He was lining up to purchase a baguette, four ciabattina rolls and a round of sliced sourdough.
"My sister lives in New York. When she comes here, I take her to Wheatfields. She thinks it's fabulous. She can't believe we have something like this in Kansas," he said.
Robert Brawley, a professor in Kansas University's department of fine arts, agreed.
"I buy bread here all the time it's the best around. I'm from San Francisco, and this is the only bread that reminds me of home. I think the national status is justified," he said.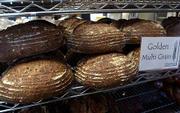 In the USA Today story, Wheatfields heads the list of artisan bakeries said to offer the best bread in the country.
That's according to Maggie Glezer author of the award-winning book "Artisan Baking Across America" (Artisan, $40) who supplied the information to USA Today's Jerry Shriver.
"Using organic Kansas-grown flour, bakers here create French sourdough loaves and other delights in a Spanish wood-fired round hearth oven," the story reads.
"They also do kalamata olive bread using huge chunks of olives, and that's a loaf that I can sit down and eat just straight," Glezer told USA Today.
Above the list of the top 10 bakeries is a large, black-and-white photo of a split loaf of country French bread, held by Thom Leonard, a partner at Wheatfields.
Glezer's book, published in October 2000, features several pages about the breads baked at Wheatfields using flour from Heartland Mill, Marienthal.
The author attended a special reception at the bakery, after the publication of her book, as part of a promotional tour.
"Every time we get publicity, I'm pleasantly surprised. A lot of it's because of this book," said Rita York, head baker at Wheatfields. "I haven't even gotten a chance to read the (USA Today) article I'm busy back here baking bread. It's really exciting."
Wheatfields almost toast
| | | |
| --- | --- | --- |
| | | |
| | Here is the list of 10 artisan-style bakeries that make the best bread in the country, according to a story that appeared in Friday's edition of USA Today:Wheatfields Bakery & CafLawrenceHi-Rise Bread Co., Cambridge, Mass.Artisan Bakers, Sonoma, Calif.Macrina Bakery and CafSeattleAlon's Bakery, AtlantaAcme Bread Co., Berkeley, Calif.Pearl Bakery, Portland, Ore.Royal Crown Bakery, Brooklyn, N.Y.Pizzeria Bianco, Phoenix.Kaufman's Bagel and Delicatessen, Skokie, Ill. | |
| | | |
The Lawrence bakery, which opened in October 1995, is getting used to widespread attention.
Wheatfields is also featured in "Prairie Home Breads: 150 Splendid Recipes from America's Breadbasket," (Harvard Common Press, $18.95).
The book, by Kansas City, Mo., author Judith Fertig, came out in October 2001.
And the April 2001 issue of Pastry Art & Design Magazine featured York and Wheatfields head pastry chef, Jules Shores, in a story about the bakery's pastries and breads.
But all the honors almost didn't come to pass.
A devastating fire in April 2000 shut down Wheatfields for nearly three months an event that sickened loyal customers and left them in serious bread withdrawal.
"People were stopping by every day (during renovations) to check on our progress. They wanted to know how long it was going to be till we reopened," Fortel said.
Wheatfields was back in business by early July, and the throngs of bread lovers returned for their French Walnut Raisin, golden multi-grain and rustic Italian rounds.
Word of Wheatfields' mention in the national newspaper got around quickly Friday.
"A couple came in off of I-70. They were on their way to Aspen to go skiing. They were reading USA Today, and they decided to come in," Fortel said.
"They bought four loaves of bread. That was the best part so far."
Copyright 2018 The Lawrence Journal-World. All rights reserved. This material may not be published, broadcast, rewritten or redistributed. We strive to uphold our values for every story published.