Shawnee — It's not uncommon for a boys basketball coach to empty the bench late in a game by making mass substitutions.
Of course, it's not often that it's the starters being forced to return to duty.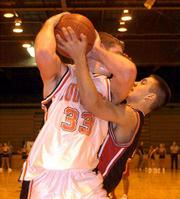 After leading by as many as 25 points in the fourth quarter, Lawrence High had to turn to its starters late to hold off feisty Shawnee Mission Northwest, winning their Sunflower League contest, 60-55, Friday night at the SMNW gym.
"I would have really liked for the game to have just played out the way it was," LHS coach Chris Davis said following the Lions' sixth straight victory to improve to 7-2 overall and 4-0 in the league. "But the fact that I knew we could come back and that I could let it get down to six and at that point I was still comfortable. I knew we could close the game out. It just got a little tighter than I wanted there at the end.
"It was a good, quality win against a team that was very hungry for a win."
The Lions' dynamic duo of senior guards Stephen Vinson and D.J. Watkins continued to thrive on both ends of the floor, combining for 37 points on 11-of-21 shooting, including making six of 12 three-point attempts. The pair also paced the LHS defense, enabling the Lions to take leads of 19-9, 29-16 and 39-23 after each of the first three quarters.
But, after senior David Parkinson's putback with 6:03 remaining gave Lawrence a game-high advantage at 49-24, the LHS starters started coming out of the game with a little more than five minutes to play.
By the 4:23 mark, when little-used reserve Brian Seymour was inserted, the Lions had used 12 different players. But scrappy SM Northwest (0-7 overall, 0-5 league), fought back with an onslaught of threes.
The Cougars, who had scored just 23 points on 10-of-33 shooting through three quarters, were 8-of-15 shooting during the final five minutes, including 4-of-8 from three-point range. SM Northwest, which has lost all seven of its games by nine points or less, erupted for 32 points in the final quarter.
Lawrence High 60SM Northwest 55
Lawrence (60)Stephen Vinson 6-12 4-6 19Jamie Peterson 1-5 1-2 3D.J. Watkins 5-9 5-5 18Matt Dunkin 2-4 4-7 8Brandon McAnderson 0-5 2-4 2Bryan Cargill 0-2 0-0 0David Parkinson 1-4 0-0 2Casey Rahmeier 0-0 0-0 0Taylor Parker 1-2 0-0 3Brad Collier 0-1 1-2 1Richard Mumford 1-1 0-2 2Brian Seymour 0-0 2-4 2Totals 17-45 19-32 60.
SM Northwest (55)Derek Welter 1-2 0-0 2Bryan Ballweg 3-8 2-3 8Earvin Ray 1-6 0-0 2Beau Gadwood 1-7 2-4 4Bjorn Bodelson 3-4 0-0 6Chad Thurman 4-8 0-0 12Gragory Anderson 4-11 2-4 11Justin Bird 1-3 5-6 7Matt Stohs 0-0 0-1 0Luther Wilson 1-1 1-2 3Totals 19-50 12-19 55.
| | | | | | |
| --- | --- | --- | --- | --- | --- |
| Lawrence | 19 | 10 | 10 | 21 | 60 |
| SM Northwest | 9 | 7 | 7 | 32 | 55 |
Three-point goals Lawrence 7-19 (Vinson 3-6, Watkins 3-6, Parker 1-1, Peterson 0-1, Cargill 0-2, McAnderson 0-3), SM Northwest 5-19 (Thurman 4-8, Anderson 1-4, Welter 0-1, Ballweg 0-1, Gadwood 0-1, Ray 0-2, Bird 0-2). Turnovers Lawrence 12, SM Northwest 11. Total fouls Lawrence 18, SM Northwest 23.
"We didn't quit, but we didn't start either, until the second half," SMNW coach Ben Meseke said. "We don't normally play like that, like we did early. It was discouraging. But it showed another side of these kids that they didn't quit.
"It's just like the movie 'Groundhog Day.' It's just the same thing over and over and over again," he added about the setback.
The first three quarters had a feeling of d vu to them, as the Lions controlled the tempo and pushed the pace by using a variety of full-court presses "a fistful" of different presses, according to Davis and varying between their 2-3 zone and man-to-man defenses.
"We like to get it out and up the floor, just to widen all our options and get it in to the post," said Watkins, who had 18 points on 5-of-9 shooting. "We haven't even gotten to run as much as we want to. We haven't really gotten out and up to our full potential on the fast break or anything."
When Watkins wasn't dropping threes or hitting all five of his free-throw attempts, he was driving the lane and kicking the ball out to his fellow long-range sniper.
Vinson, who was averaging 13.6 points a game coming into the week, scored a team-high 19 points on 6-of-12 shooting on the heels of Tuesday's 25-point performance.
"I haven't changed my shot too much," Vinson said. "It's just the rims are being nicer now. At the beginning of the year, everything was in and out, but I'm definitely more confident. Every time I have an open look I want to take it."
Watkins and Vinson both were 3-of-6 from three-point range the rest of the team was a combined 1-of-7 and were 5-of-5 and 4-of-6 from the charity stripe respectively, including a combined 6-of-8 down the stretch to ice the game.
Junior forward Brandon McAnderson led the Lions with nine rebounds, and senior forward Matt Dunkin added eight points. Lawrence High, which had 10 different players score, next will face Topeka Highland Park in the first round of next week's Topeka Invitational Tournament.
Copyright 2018 The Lawrence Journal-World. All rights reserved. This material may not be published, broadcast, rewritten or redistributed. We strive to uphold our values for every story published.