By looking at the final score in Lawrence's 69-45 loss to Shawnee Mission Northwest on Thursday night at LHS, one would assume the Lions were right back where they started this season a basketball team that had lost 15 straight.
Coach Kristin Mallory would disagree.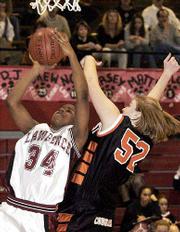 For three quarters Thursday, Mallory had a case as Lawrence stood toe to toe with the Cougars.
Then came the fourth.
Mental breakdowns, an inability to defend SMNW's inside game and flat out not getting the ball in the basket fueled the lopsided loss.
"We played three solid quarters," Mallory said. "But you can't win unless you play four. They're an excellent team, but we came ready to play tonight and challenged for three quarters ... but we didn't get it done in the fourth."
Early on, Lawrence (3-6) seemed to be a team riding momentum from its victory over SM East last Thursday the Lions' first game since the holiday break.
LHS was poised in the early minutes and had no problem scoring as it took a 9-3 lead with 3:20 left in the first.
"Man, they came out and played and had me worried about my health," SMNW coach John Reiff said. "And I'm not the healthiest guy with my high blood pressure and all."
Reiff didn't have to worry for long as Lawrence hit an early skid, committing four consecutive turnovers which allowed the Cougars (7-0) to go on a 9-0 run and take a 12-9 lead after the first.
The Lions came right back in the second and cut the Cougars' lead to two with 3:17 left on an Audrey Pope free throw.
But SMNW didn't allow Lawrence to close the gap any tighter and went on a 6-2 run to end the half for a 27-23 lead. SMNW guard Jayme Wilson scored 15 of her game-high 23 points in the first half.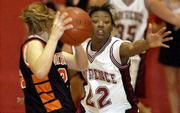 Lawrence continued to fight back in the third, but almost every time it cut into the Cougars' lead, SMNW answered.
Lions guard Leigh DeBiasse hit back-to-back three-pointers to cut SMNW's lead to 39-37 with 4:16 to go in the third.
But by the time the Lions scored their next field goal the Cougars had gone on an 8-2 run with forward Missy Rivers scoring six points on easy lay-ins.
"They began running a flex offense and we didn't do a good job at all of defending it," Mallory said.
With the lead in hand and new-found scoring inside, the Cougars had little trouble running away with victory.
The Lions didn't help themselves, hitting just two of 12 field goals in the final quarter and committing six turnovers.
"One wouldn't really tell it by the final score but this game was a lot closer than it looked," Reiff said. "We always tell our kids that we're 0-0 and haven't done anything yet, and tonight we had to play hard."
Mallory insists Thursday's loss won't be a setback for her team and that the positives Josie Polk's 14 points and DeBiasse's 13 the Lions can take from the first three quarters won't outweigh negative aspects like the Lions' 30 percent shooting or 23 turnovers.
"I don't think we took a step back because of this game," she said. "They were a really good team and we played hard for three quarters. We just have to finish."
---
SMNW 69Lawrence 45
SMNW (69)Katie Doran 1-5 3-4 5Missy Rivers 6-13 0-0 12Mandy Smith 2-4 0-0 4Mary Beth Coyle 3-9 1-2 7Jayme Wilson 7-13 6-6 23Megan Blay 5-9 0-1 10Micaela Uriell 1-3 0-0 2Katie Duncan 2-2 1-2 5Beth Schilling 0-0 1-2 1Emily Hoskins 0-0 0-0 0Stephanie Corry 0-1 0-0 0Totals 27-59 12-17 69.
LAWRENCE (45)Audrey Pope 1-3 1-5 3Josie Polk 4-17 6-6 14Mandy Amyx 1-2 4-4 6Hallie Fitzgerald 0-0 1-4 1Leigh DeBiasse 3-7 4-5 13Cherrale Ricks 2-5 0-0 4Ashley Burnett 0-0 0-0 0Rachel Klingler 2-5 0-0 4Shair Lassiter 0-3 0-0 0Jenna Wilcox 0-0 0-0 0Jodie Cochrane 0-1 0-0 0Rachel Severence 0-0 0-0 0Erin Knight 0-0 0-0 0Totals 13-43 16-24 45.
| | | | | | |
| --- | --- | --- | --- | --- | --- |
| SMNW | 12 | 22 | 11 | 24 | 69 |
| Lawrence | 9 | 16 | 14 | 6 | 45 |
Three-point goals SMNW 3-9 (Wilson 3-8, Uriell 0-1), Lawrence 3-12 (DeBiasse 3-5, Polk 0-5, Lassiter 0-1, Cochrane 0-1). Total fouls SMNW 22, Lawrence 19. Turnovers SMNW 16, Lawrence 23.
Copyright 2018 The Lawrence Journal-World. All rights reserved. This material may not be published, broadcast, rewritten or redistributed. We strive to uphold our values for every story published.