The equipment upgrade already is paying off for Calvin Ledbetter and Sparky Wilhelm.
Ledbetter, a cabinet maker, last year sold his 25-year-old lathe for $50 at a garage sale, then teamed with Wilhelm to buy a new lathe and duplicator to help launch a new business making cabinets and baseball bats.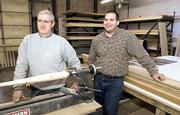 Only a few months after that initial $2,600 equipment purchase, Diamond Cabinetry & Wood Products Inc. today is on track to generate sales of $650,000 to $700,000 in 2002 a big swing in an economic climate supposedly mired in recession.
"There's more growth in new construction, and you'll always have the remodeling, too," said Wilhelm, whose business handles custom cabinet jobs ranging in price from $5,000 to $30,000. "With the low interest rates, people are taking refinancing and redoing their kitchens. It's the best of both worlds, if it holds up."
With Lawrence's residential market on the rise builders took out permits for construction of $70.6 million in new homes and duplexes last year, up from $49 million a year earlier Diamond and other cabinet businesses are angling to take advantage.
Kitchen & Bath Designs of Lawrence opened in September at 1800 E. 23rd St., designing and selling manufactured cabinets, countertops, shelving and related products.
Business has been so brisk that co-owner Sandy Henley hasn't even had enough time to finish her displays for the showroom. A set of cabinets along the front window doesn't even have a countertop.
She figures the business can take in annual sales of $1 million within a couple of years.
"We're growing on all four sides," Henley said, noting Lawrence's expansion. "It's all the way around, and it's a continual pace. I suppose there's got to be an end somewhere, but I don't think it'll be anytime soon."
At Tolar Cabinets Inc., 2332 Haskell Ave., owner Terry Tolar is busy building on 25 years of experience that started in a small garage on Garfield Street and since has moved into a 14,000-square-foot production center.
Tolar Cabinets only moved into the new $1.2 million building a few months ago. And it still doesn't have any window awnings, or even a sign saying what's inside.
The mailbox finally went up Wednesday.
"We've been so darn busy, we haven't even had time to build a single display yet," Tolar said. "We've never understood it. Every time the country goes into recession, my business speeds up."
Low-interest, home-equity loans have given a boost to residential remodeling projects, he said, but Tolar's commercial contracts installing counters and reception areas for professional offices, hospitals and the like remain strong.
The new building has allowed him to add three employees and grab more regional business, especially in Johnson County. His previous top year for sales was $460,000, but the expansion should clear the way toward $750,000 to $1 million.
"The business has always been there," he said. "We just didn't have the capacity to handle it."
Around the corner at Diamond, inside the former home of Prairie Graphics at 641 E. 22nd St., Wilhelm and Ledbetter are looking forward to the coming year. They've scheduled an open house Feb. 2 and already have lined up bat-making deals for college baseball teams such as Kansas University and the universities of Nebraska and Missouri.
Ledbetter whose son, Curtis, plays ball at Nebraska and Wilhelm, a former KU third baseman, know they'll have plenty of competition in town but figure they can handle it.
"This is a great market," Ledbetter said. "There are a lot of people who look for special things, and that's what we have."
Copyright 2018 The Lawrence Journal-World. All rights reserved. This material may not be published, broadcast, rewritten or redistributed. We strive to uphold our values for every story published.