Crunch all the numbers you want and talk to all the gurus, but when thinking about this year's stock market, the simple fact is this:
Stocks have not fallen three years in a row for 60 years.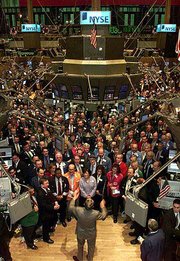 After the end of trading Monday, the nation's three major stock market indexes dropped in 2001 after plummeting in 2000.
So, based on the odds, experts think 2002 has to show some improvement.
Heading into this new year, investors seem more optimistic, hoping stock markets again will boost their savings, retirement plans and investment portfolios. But the verdict is still out on the strength of the coming economic recovery. It will depend on whether corporate profits recover and consumers keep spending.
One survey of investment strategists show they are expecting reasonable gains for all three indexes in 2002: a 9 percent gain for the Dow Jones industrial average, 12 percent for the broader Standard & Poor's 500 and 13 percent for the tech-heavy Nasdaq composite index.
As if to foreshadow those predictions, stocks staged a sharp rally toward the end of last year that boosted some Silicon Valley technology stocks as much as 50 percent.
"The American people are very resilient and naturally optimistic," said Greg McCrickard, portfolio manager of the T. Rowe Price Small Cap mutual fund. "The market is a reflection of our collective psyche, and it is telling us that happier days are coming."
Normally, a steep rise in the stock market might be a sign of a coming recovery. But this time, some savvy investors are worrying the rally is too much too soon. The economy remains fragile and investors may be too eager to jump back in.
Ken Fisher, chairman of Fisher Investments in Woodside, Calif., is one of the forecasters who is betting against history and foresees a third declining year for stocks.
In his view, investors still remember the wild ride of the late 1990s and can't seem to believe it's over.
"It just reminds me of someone who is late to a party, has had a little too much to drink and still wants to keep the party going even though it's time to go home," Fisher said. "This could be the final sobering."
Tech hangover continues?
Other investors aren't quite so pessimistic, but warn against undue enthusiasm in 2002, particularly in technology. The demand for technology goods depends on an improvement in business spending, and that depends on corporate profits. A Merrill Lynch survey shows technology budgets won't rise more than 10 percent this year, somewhat of an increase but far below what it was in 2000.
"The kind of recovery we're going to have is going to be much more muted," said Steven Milunovich, Merrill Lynch's technology strategist.
All three major indexes lost ground as the 2001 trading year closed. The blue-chip Dow Jones industrial ended at 10,021.50, down 7 percent for the year. The tech-heavy Nasdaq composite finished the year at 1,950.40, down 21 percent, while the broad Standard & Poor's 500 Index finished at 1,148.08, off 13 percent.
The reason for concern in 2002 is that Wall Street analysts still appear overly optimistic about corporate earnings. A survey of analysts by First Call/Thomson Financial shows they are expecting corporate earnings for the S&P; 500 to rise in 2002 by about 16 percent about three times more than First Call/Thomson Financial considers reasonable.
If earnings don't rise as much as expected, the S&P; index of 500 leading stocks could be overvalued by as much as 20 percent to 30 percent, said Chuck Hill, director of research for First Call. He is particularly worried about the high prices of tech stocks.
Wall Street analysts foresee Intel increasing its per-share earnings about 30 percent in 2002. They expect per-share earnings at Cisco Systems to rise by 80 percent for the fiscal year ending in July 2003.
Consumers keep spending
The current stock prices, at least by one yardstick of stock value the price-earnings ratio are predicting high future earnings, without much margin for error.
"Everybody still thinks they should be paying these high valuations for tech," Hill said. "That worries me for the whole market. We haven't shaken the excesses out of the market."
Similar concerns focus on the economy: Has the recession of 2001 convinced consumers to cut back spending and build up savings, the necessary step for a new expansion?
Not enough, some say.
Consumers kept buying autos and houses, but they remain saddled with high levels of debt and low savings. In most recessions, consumers pay off debt, build up savings and postpone big purchases so that demand builds up in the economy.
"We've had a business recession and a consumer expansion," said Jim Paulsen, chief investment officer at Wells Capital Management. "Now we're talking about the recession ending before the consumer has even gone into one."
Eluding the bull
The last time all three indexes fell for two consecutive years was in 1973 and 1974. This was also one of the worst years for mutual funds since the brutal bear market of 1973-'74. Almost every category of mutual fund large-cap, small-cap and mid-cap was down for the year. The average U.S. stock fund lost 15 percent for the year, according to Lipper Inc.
Even before the Sept. 11 attacks, a vicious bear was in control of the market. But the attacks brought near-panic selling that began when the exchanges reopened Sept. 17 and culminated on Sept. 21.
At that low point, the Nasdaq was off 72 percent from its high; the S&P; was off 37 percent and the Dow was down 30 percent. Many stock analysts now refer to that week as "capitulation," meaning most sellers were washed out of the market, and it had hit bottom.
But investors shouldn't automatically expect the double-digit returns of the late 1990s. Most market experts are projecting the market to return its historical average of about 10 percent a year.
"If you'll remember after the recession of 1991, we gained about 10 percent a year for the next two years," Sekelsky said.
Millions of investors have been scarred by the losses of the past 18 months, and they'll probably be slow to return to the market. In fact, many investors are "parking" tons of cash in the much safer money market funds rather than stock funds, according to the Investment Company Institute.
In November, for example, money market funds had inflows of $60.2 billion, compared to stock fund inflows of only $14.9 billion.
But many market analysts say now is the time to resume buying stocks.
"The market will anticipate a better economy before we actually see it," said Brian Sayers, manager of the Dallas office of CIBC Oppenheimer Corp. "Just as the aggressive stock traders and investors stayed in the party too long going into March 2000, investors should not stay out of the market too long now."
Copyright 2018 The Lawrence Journal-World. All rights reserved. This material may not be published, broadcast, rewritten or redistributed. We strive to uphold our values for every story published.