Although the popularity of bicycling fades a bit during the cold winter months, it's still an option for people who want to exercise.
Until the spring comes, the Lawrence Bicycle Club offers three organized rides every week instead of the normal five.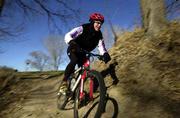 When the temperatures start to dip, Rex Cox, the club's vice president, said it's important for bicyclists to bundle up.
"It is important to wear good clothing," he said. "Your feet, hands and ears can get pretty cold."
On slightly warmer days, he said, people can wear layers of clothing and shed them as necessary.
If possible, Cox said, bicyclists should buy clothing made from high-tech fabrics, sold under brand names such as CoolMax and GoreTex, that wick away perspiration from the body.
"If you can afford it, buy anything that wicks," he said. "It's expensive stuff."
Most importantly, Cox said, people need to keep their hands and feet warm and dry. Gloves or mittens should be comfortable enough so people can still maneuver the handles and controls of their bicycle. He said special booties also can be worn over the top of bicycling shoes.
During the winter, Cox uses a mountain bicycle instead of his road bicycle and travels in more protected areas, such as along the Kansas River.
"I like to go off road and do the river levee or even the gravel roads, but they may not be as protected," he said. "On a mountain bike, you're traveling slower so you don't create that wind and get as cold."
And when the weather gets too cold, even diehard bicyclists like Cox have to take a break. He said there's not a set temperature that makes him bring his bicycle indoors. When he does, he places it on a rack that converts it into a stationary bicycle.
"I'm lucky because by finding a means of exercise I enjoy, it helps me to stick with it," he said.
The times of the club's wintertime rides are:
6:30 p.m. Tuesdays, an illuminated bike path ride along the South Lawrence Trafficway trail behind Southwind 12 Theaters, 3433 Iowa.
8 a.m. Saturdays, Muffin Ride, meet at the Broken Arrow Park parking lot, 31st and Louisiana streets, for a spin to Lone Star Lake.
10:30 a.m. Sundays, Show-N-Go, meet at the South Park gazebo, 11th and Massachusetts streets. The destination is determined by the bicyclists, Cox said.
Copyright 2017 The Lawrence Journal-World. All rights reserved. This material may not be published, broadcast, rewritten or redistributed. We strive to uphold our values for every story published.