Washington — A U.S. Army Special Forces soldier was killed Friday by small-arms fire during an ambush in eastern Afghanistan, the first American military death from enemy fire in the war against terrorism.
A CIA officer was wounded but was expected to survive.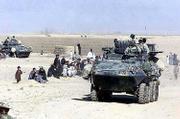 Gen. Tommy Franks, commander of U.S. Central Command, said the casualties underscored the dangers faced by dozens of American special operations forces who are working with local Afghan fighters to coordinate the hunt for Osama bin Laden, his al-Qaida lieutenants and senior Taliban members.
In a sign of progress, the United States has arranged for Pakistan to turn over to U.S. control the Taliban's former ambassador to Pakistan, Mullah Abdul Salam Zaeef, who would be one of the highest ranking Taliban officials to fall into U.S. hands, according to a senior defense official who spoke on condition of anonymity.
Pakistan also has handed over the al-Qaida member who ran bin Laden's training camps in Afghanistan, U.S. officials said. Ibn Al-Shaykh al-Libi has been taken to Kandahar for questioning, a U.S. official said, adding that he was considered a potentially rich source of information about the terrorist organization.
Franks said he was pleased with the war's progress so far, but much difficult work remains.
"We still have a responsibility as part of this mission to root out pockets of resisting Taliban forces, as well as to continue to work to root out groups of al-Qaida where we may find them inside Afghanistan dangerous work, indeed," Franks told a news conference in Tampa, Fla., where Central Command has its headquarters.
The Pentagon identified the soldier killed in the attack as Sgt. 1st Class Nathan Ross Chapman, 31, of San Antonio. Franks described Chapman as a member of the Army's Special Forces, also known as Green Berets, who have been advising, arming, training and coordinating with local Afghan forces since the military campaign began Oct. 7.
"There was an exchange of small-arms fire," Franks said. "This American serviceman was doing his job. He was out for the purpose of working with and coordinating with tribal leaders in that area."
He said other details of the incident were being sorted out.
The shootout occurred after Chapman and the CIA officer met with several Afghan tribal leaders, a U.S. official said. The group was ambushed by an unidentified force after the meeting ended, the official said.
The CIA officer, whose name was not disclosed, was evacuated out of Afghanistan, a senior U.S. official said. The official said no Afghan anti-Taliban forces working with the Americans in that area were wounded.
The Green Berets and other special operations forces, including AC-130 gunship crews and psychological warfare specialists, are the main U.S. players in the American-led military campaign in Afghanistan, now that the weekslong heavy bombing has defeated the Taliban and largely routed the al-Qaida terrorism organization.
The Green Berets, in some cases working with CIA officers, are coordinating intelligence-gathering efforts with local Afghans, searching abandoned caves and bunkers, interrogating Taliban and al-Qaida prisoners and participating in a surrender of weapons by Taliban holdouts near the city of Kandahar as part of a surrender deal.
Franks said the slain Green Beret was part of a U.S. team operating near the town of Khost, a few miles from the Pakistan border. That area of Paktia province, south of the capital Kabul, is now the main focus of U.S. military action as the search for bin Laden continues, he said.
U.S. warplanes attacked an al-Qaida compound near Khost on Friday for the second straight day. Franks said the attack was unrelated to the Green Beret's death. The compound, which included a training site, buildings and caves, was attacked because intelligence indicated al-Qaida fighters were regrouping there, possibly in preparation to slip across the border into Pakistan, U.S. officials said.
Franks said he does not know bin Laden's whereabouts, although he said there are indications the other main target of the U.S. manhunt in Afghanistan deposed Taliban leader Mullah Mohammed Omar is in the vicinity of Baghran, in central Afghanistan.
One of the more remarkable aspects of the war in Afghanistan is how few Americans have been killed. The only U.S. military members killed inside the war-ravaged country before Friday were three Green Berets mistakenly hit by a U.S. airstrike north of Kandahar on Dec. 5. Two Army Rangers were killed when their Black Hawk helicopter crashed in Pakistan on Oct. 19.
On Nov. 25, CIA operative Johnny "Mike" Spann was killed in battles that erupted when al-Qaida prisoners revolted in the northern city of Mazar-e-Sharif.
At his Tampa news conference Franks also said:
U.S. forces have searched seven of the eight most interesting cave complexes in the mountainous Tora Bora area where some believe bin Laden had been hiding. He said a substantial number of bodies were found in the caves, as well as a tank and other weapons.
U.S. examinations of more than 40 sites in Afghanistan suspected of involvement in developing chemical, biological or nuclear weapons have turned up "considerable indication of interest and desire by al-Qaida to acquire weapons of mass destruction," but no evidence the terrorists succeeded.
The number of Taliban and al-Qaida prisoners under U.S. control topped 270, including the American Taliban fighter, John Walker Lindh, who is one of eight prisoners aboard the USS Bataan off Pakistan's coast. Franks said some prisoners will be moved to the U.S. Navy base at Guantanamo Bay, Cuba, within 10 days. No decision has been made on when or where to move Lindh, he said.
Franks is working with the government of Kyrgyzstan, a former Soviet republic, on arrangements for using a military base there as a transport hub for U.S. aircraft involved in the Afghanistan war. He offered no details, but other officials said Air Force F-15Es and other combat aircraft might be based there.
Copyright 2018 The Associated Press. All rights reserved. This material may not be published, broadcast, rewritten or redistributed. We strive to uphold our values for every story published.