Birmingham, Ala. — A judge ruled Thursday that former Ku Klux Klansman Bobby Frank Cherry is mentally competent to stand trial on murder charges in the 1963 Birmingham church bombing that killed four black girls.
Circuit Judge James Garrett had initially ruled Cherry mentally incompetent last year. But he reversed himself after further evaluation of Cherry, whose age is listed in court records as both 71 and 72.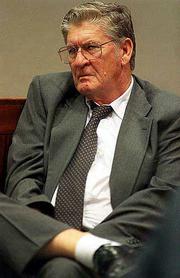 The judge said Cherry "has been restored to competence," and set a Jan. 18 proceeding to set a trial date.
The bombing of the 16th Street Baptist Church was the deadliest crime of the civil rights era. The church a gathering point for demonstrators pressing for integration was blown up on a Sunday morning, Sept. 15, 1963, as Addie Mae Collins, Cynthia Wesley and Carole Robertson, all 14, and 11-year-old Denise McNair prepared for a service.
Two former Klansmen were convicted of murder in the explosion, one in a trial last year and one in 1977.
Cherry was part of a group of Klansmen who came under suspicion almost immediately. He left Alabama several years after the bombing and moved to Texas, where he worked as a truck driver and cleaned carpets before retiring in the town of Mabank.
Cherry and Thomas Blanton Jr. were indicted on murder charges in 1999. Blanton was convicted last year and sentenced to life in prison, but the judge delayed Cherry's trial because of questions about his competency.
Last April, the judge ruled that Cherry was incompetent based on testimony from four experts who said he suffered from vascular dementia, which can cause forgetfulness and confusion. Prosecutors appealed, and the judge committed Cherry to an institution, where he was evaluated.
During a hearing last month, state psychologists testified that Cherry was faking mental problems and possibly taking too much of a medicine prescribed for anxiety.
Blanton is appealing his conviction. Another ex-Klansman, Robert "Dynamite Bob" Chambliss, was convicted of murder in the bombing in 1977 and died in prison. A fourth suspect, Herman Cash, died in 1994 without being charged.
Copyright 2018 The Associated Press. All rights reserved. This material may not be published, broadcast, rewritten or redistributed. We strive to uphold our values for every story published.