Wichita — Second to one.
That's the way Free State High senior Justin Stevens will unfortunately remember the last three weeks of his high school wrestling career.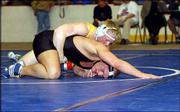 Saturday night it ended at the Kansas Coliseum with the only wrestler to have beaten him this season, Olathe South's Justin Dyer, again raising his arm in victory.
"Yeah, this isn't how I pictured my career coming to an ending," said a disappointed Stevens after his 9-3 loss in the Class 6A 189-pound state championship. "I guess if I'm going to have to lose, I'd want to lose to a state champion-caliber wrestler and Dyer's definitely that. But losing sucks."
Stevens' runner-up finish, coupled with three other Firebird medalists, gave Free State its highest finish in history as FSHS took 11th with 64.5 points.
Saturday's third and final meeting between Stevens and Dyer didn't feature blood, like the duo's meeting two weeks ago at the Sunflower League tournament, and Stevens (35-3) wrestled Dyer better than he did at regionals, but in the end the match ended with the same result.
"He's a great wrestler," said Dyer, who finished his senior year with a 39-0 record and his third state title. He will wrestle at Oklahoma University next season. "We've wrestled a lot and know each other really well, so I knew I was in for a tough, competitive match."
Indeed, Stevens kept it close early.
But not capitalizing on a couple of Dyer miscues cost Stevens when Dyer's speed and power provided four solid takedowns, which was more than enough to cover three Stevens' escapes.
"Maybe in any other class or a different state, Stevens would have been champ," FSHS coach Darrell Andrew said. "But those two have a great respect for each other, and Stevens wrestled him strong. Dyer blocked a couple of his takedowns and I think that made him a little tentative to keep shooting."
Despite what might have been as tough a loss as any, Stevens said that his future in wrestling did not end on the mat in Wichita.
"It didn't end here, and like every other match I've been in I'll take this one as a learning experience and continue to improve," Stevens said.
Free State senior Ian Band junior Kyle Frank made it all the way through the back-door bracket to take third-place medals. Sophomore Matt Somers finished sixth in the 119-pound class, while senior Anthony White lost in a second-round consolation match.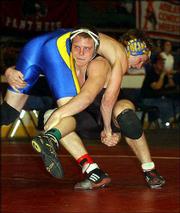 "It's a real hard day to go through on the backside," Andrew said. "Your chance at a state championship is over, your dream is shattered and it's hard to refocus. But I think, for the most part, we stepped up and responded well."
There was no better example than B who ended his high school career with back-to-back pins in the consolation rounds.
After easily defeating Wichita South's Curtis Hibarger with a pin 46 seconds into his consolation semifinal, Bork came up with his best move of the day.
B who finished the season 29-7, trailed Derby's Matt Reaves by a single point late in the third and looked to be in trouble. But a nifty reversal quickly pushed Bon top and gave him a three-point near fall. Bthen pinned Reaves.
"It felt good to pin him," said B headed to Stanford in the fall. "I wanted to prove to my coaches that I would come out hard the second day and leave as a state placer.
"The people that have big hearts come out Saturday. They're the ones that shake off their disappointments, refocus their goals and also get the job done."
Frank had to earn his medal via a double overtime thriller. Frank went through with a 4-2 victory in his consolation semifinal and held a 5-2 lead over Hutchinson's Todd Foster with a little more than 30 seconds remaining in the match.
However, Foster scored a near fall for a 5-all tie and nearly took Frank out before time expired. Neither gained control in the first one-minute overtime and thus an additional 30-second OT was required.
| | | |
| --- | --- | --- |
| | | |
| | Class 6ASecond place189 Justin Stevens, Free StateThird place171 Kyle Frank, Free State215 Ian B Free StateFifth place275 Kenny Poeverlein II, LHSSixth place119 Matt Somers, Free StateClass 4AFirst place275 Witt Hinton, BaldwinSecond place171 Kyle Flory, Baldwin275 Shane Grant, EudoraThird place119 Chad Hinderliter, OttawaFifth place125 Cody Betsworth, Santa Fe Trail140 Travis McBurney, Santa Fe Trail152 Luke Powers, EudoraSixth place140 Derek Lang, Baldwin145 Justin Wiscombe, Santa Fe TrailClass 3AFirst place119 Kyle Patton, Wellsville | |
| | | |
Frank chose to stay down and needed only to slip away from Foster for the win, instead he scored a reversal and his best-ever state finish.
"Kyle has had a great state tournament," Andrew said. "I really feel that this will be a motivating finish for him to come back even stronger next season."
Lawrence High was led by 275-pounder Kenny Poeverlein II, who placed fifth.
LHS other remaining wrestler, Aaron Madill (160), suffered a technical fall when Blue Valley Northwest's Tyler Roberson beat him 19-4. Chris Hultine (135) was Lawrence's other qualifier.
"Well, things didn't exactly go the way we thought," LHS coach Jeff Tummons said. "But the good thing is that all three are juniors and will have a good shot at coming back. I was real proud of Kenny, and Aaron was struggling through an injury. But I think we'll still take something positive and learn from this."
---
CHAMPIONSHIP MATCHES
103 Kelly Heincker, Derby, pinned Tim Elliot, Campus 1:23. 112 Josh Baldridge, Campus, def. Charles Knox, Wichita West 12-5. 119 Marcus Herrera, Emporia, def. Joseph Cornejo, Wichita West 4-0. 125 Blake Trullinger, SM Northwest, def. Derek Patterson, Wichita Northwest 4-3. 130 Nick Munoz, Hutchinson, def. B.J. Essex, Emporia 8-6. 135 Stewart Bogart, SM South def. Joe Hentzen, Maize 9-2. 140 Nolan Crisper, Overland Park Aquinas def. Andy Rexford, Maize 8-0. 145 Nick Chrisman, Campus, def. Justin Smith, Dodge City 7-4. 152 Ryan Kromer, Garden City, def. Drew Ibarra, OP Aquinas 6-4. 160 Brett Stewart, Junction City def. Jonathon Walter, Manhattan 10-5. 171 Gabe Conaghan, OP Aquinas, def. Matt Tatro, Maize 6-3. 189 Justin Dyer, Olathe South, def. Justin Stevens, Free State, 9-3. 215 Zach Hemmerling, Hutchinson dec. Josh Carroll, Olathe North, 14-7. 275 Adam Venegas, Olathe North, def. Joe Niederee, Derby, 6-5.
Team results: 1. Hutchinson 132. 2. Manhattan 131. 3. Derby 115. 4. Maize 102. 5. Campus 85.5. 6. OP Aquinas 78.5. 7. Olathe South 76. 8. Garden City 75. 9. Junction City 74. 10. Emporia 73.5. 11. Lawrence Free State 64.5. 12. Wichita West 59. 13. Dodge City 51. 14. Olathe North 50.5. 15. SM South 49. Also: 27. Lawrence High 13.
THIRD-PLACE MATCHES
103 Dusty Briggs, Garden City, def. Dereck Smith, Wichita Northwest, 10-0. 112 Cody Garcia, Hutchinson, def. Ryan Bohning, Maize, 5-1. 119 Tyler McCormick, BV North, def. David Sielert, Olathe South, 7-1. 125 Andrew Tyson, SM South, def. Tyler Nelson, Emporia 2-1. 130 Chris Jewett, SM West, pinned Ryan Johnson, Manhattan, 2:52. 135 Matt Herrman, Manhattan, def. Greg Macy, Leavenworth, 4-2. 140 Cody Smith, Hutchinson, def. Matt Stealey, Olathe South, 7-1. 145 Nathan Wolf, Manhattan, def. Hill Kirby, Olathe South 8-4. 152 Adam Tieben, Dodge City, def. Matt Smith, Derby, 7-6. 160 Josh Johnson, Leavenworth, def. B.L. Chadwick, Wichita West, 5-3. 171 Kyle Frank, Free State, def. Todd Foster, Hutchinson, 7-5. 189 Tyler Perry, Hutchinson, Kyle Hill, Manhattan, 11-1. 215 Ian B Free State, pinned Matt Reaves, Derby, 3:52. 275 Matt Mock, Wichita South, def. Fred Wilcox, Junction City, 6-1.
FIFTH-PLACE MATCHES
103 Jeb Woodford, Manhattan, default Kevin Gray, Topeka. 112 James Bal, BV Northwest, def. Troy Shaw, Derby 9-5. 119 Matt Miller, SM East, def. Matt Somers, FSHS, 9-7. 125 Phillip Craig, Hutchinson, def. Allen Miller, SM East 8-3. 130 Jared Patterson, Maize, def. Joe Sullivan, Garden City, 20-10. 135 Kevin Ecker, SM East, def. Karl Krammerer, SM West, 7-4. 140 Ryan Moody, Manhattan, dec. Xavier Delgadon, Emporia, 5-0. 145 Aaron Ziadeh, Topeka Washburn Rural, def. Joey Weilert, Derby, 5-3. 152 Justin Johnson, Manhattan, def. Austin Weichman, Maize 6-4. 160 Matt Wintz, Derby, def. Paul Lappin, Garden City, 11-0. 171 Brock Glessner, Junction City, pinned Brian Howard, Wichita Southeast, 3:57. 189 Russell Washington, Topeka, def. Chris Boyd, Gadren City, 4-2. 215 Jeff Frandin, Junction City, def. Curtis Hibarger, Wichita South, 5-1. 275 Kenny Poeverlein II, Lawrence, def. Garret Jones, BV Northwest, 10-1.
Copyright 2018 The Lawrence Journal-World. All rights reserved. This material may not be published, broadcast, rewritten or redistributed. We strive to uphold our values for every story published.