San Vicente Del Caguan, Colombia — President Andres Pastrana returned Saturday to the very spot in former rebel territory where he began a tortuous peace process three years ago and blamed the guerrillas for sabotaging the talks to end Colombia's 38-year war.
Pastrana touched down by helicopter on a soccer field in the southern cattle ranching town of San Vicente del Caguan, just hours after army troops stealthily occupied it, yanked down a rebel flag and tossed the flag into the trash.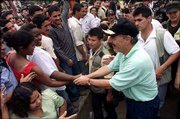 Pastrana is trying to reassert government authority over cattle country and tropical jungle in southern Colombia that he ceded to the leftist Revolutionary Armed Forces of Colombia, or FARC, in 1998 as an incentive to end the war. The region is twice the size of New Jersey with about 100,000 residents.
He angrily revoked the zone Wednesday when rebels hijacked an airliner and kidnapped a Colombian senator, ordering hundreds of airstrikes on rebel targets and mobilizing 13,000 troops to retake the zone.
Two U.S. soldiers, including the head of the 250-member U.S. military adviser contingent in Colombia, accompanied Pastrana's entourage and said they were going to monitor the military situation. Washington has been equipping and training Colombia's anti-narcotics forces and has been asked by Pastrana to provide direct military aid to use against the rebels.
Army chief Gen. Jorge Mora said the offensive was progressing as planned.
Addressing 3,000 residents packed into a shabby town plaza under a sweltering sun, Pastrana accused the FARC of staging 117 attacks in recent weeks, ruining a peace process.
Pastrana recalled that rebel leader Manuel Marulanda failed to show for the first peace talks at the same town square in January 1999. It was a huge embarrassment for Pastrana and confirmed many Colombians' belief that the FARC was not serious about talks.
Copyright 2018 The Associated Press. All rights reserved. This material may not be published, broadcast, rewritten or redistributed. We strive to uphold our values for every story published.