Beijing — President Bush softened his "axis of evil" rhetoric in Asia, but his strong words already had gotten North Korea's attention, Secretary of State Colin Powell said Friday. Indeed, North Korea shot back that Bush was "a politically backward child."
North Korea issued its angry response as Bush flew back to Washington from a six-day journey to China, South Korea and Japan where his "axis of evil" comment stirred unease or outright opposition.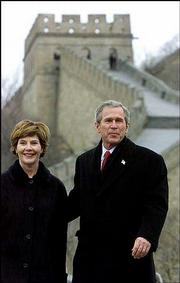 Former President Carter also criticized Bush's language. "I think it will take years before we can repair the damage done by that statement," Carter said. He called the statement "overly simplistic and counterproductive."
Powell said Bush's remark had had the desired effect. "I'm sure their (the North Koreans') mind is a little more focused than it was a few weeks ago," Powell said on Air Force One, accompanying Bush.
Bush lumped North Korea with Iraq and Iran in his State of the Union Address last month, saying they were seeking weapons of mass destruction and endangering world peace. Visiting Tokyo, Seoul and Beijing this week, Bush sought to quell fears of imminent military action, principally by offering to reopen talks with North Korea.
Powell said Bush didn't go to Asia to spend a lot of time talking about the "axis of evil" but wanted to put his views in context, particularly in South Korea. In Bush's discussions with President Kim Dae-jung, "They never talked about it, didn't have to," Powell said. "It was in the background, everybody knew it was in the ether, that wasn't the issue."
Powell said the United States would work through channels in the United Nations to renew its offer for dialogue. But North Korea rejected the overture.
A spokesman for North Korea's Foreign Ministry, quoted by the official Korean Central News Agency, said of Bush, "We are not willing to have contact with his clan, which is trying to change by force of arms the system chosen by the Korean people."
Bush made clear on his trip he had no intention of easing pressure on Iraq, Iran and North Korea.
"All options are on the table" regarding Iraq, he said in Tokyo, though he was less willing than usual to hint at future military action.
"We want to resolve all issues peacefully, whether it be Iraq, Iran or North Korea, for that matter," Bush said.
Later, standing at Korea's demilitarized zone separating the North from the South, the president virtually ruled out military strikes across the DMZ.
"We have no intention of invading North Korea," the president said.
Copyright 2018 The Associated Press. All rights reserved. This material may not be published, broadcast, rewritten or redistributed. We strive to uphold our values for every story published.