Orlando, Fla. — Lou Pearlman, the boy-band hitmaker responsible for the Backstreet Boys and 'N Sync, has cultivated an avuncular image. Called "Big Poppa" by some of his singers, Pearlman has often been seen taking group members to concerts or to his downtown pizzeria.
But now the Florida Department of Labor is investigating the portly 47-year-old music impresario and his Orlando-based company, Trans Continental Entertainment, for possible violations of the state's child labor laws.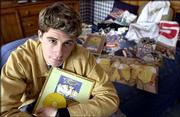 Merrily Goodell, the mother of two members of Take 5 one of Pearlman's former groups that failed to make it big filed a complaint last fall alleging Pearlman broke more than a dozen state statutes dealing with minors working in the entertainment industry.
The complaint says Pearlman violated rules prohibiting minors from working more than six consecutive days, working no earlier than 7 a.m. and no later than 11:30 p.m., and requiring that parents be notified of their children's activities.
She also accuses Pearlman of violating the terms for receiving a state permit allowing minors to work in the entertainment industry.
"It sounds like someone has it in for us," Pearlman said in a telephone interview. "It's just preposterous."
Added Trans Continental Records Vice President Scott Bennett: "Merrily Goodell is obviously fishing for something, whether it's money or whether she's jealous or upset that her boys didn't become rich and famous like some of the other bands Lou has worked with."
'A bully stealing milk money'
Goodell, mother of former Take 5 members Ryan and Clay Goodell, said the complaint is only about how Pearlman "horribly exploits and manipulates young people."
"Mr. Pearlman reminds me of the bully that runs around stealing kids' milk money," said Goodell, who lives in Dellwood, Minn. "You cower at his bullying behavior. It takes a while, but one day you realize your life won't be worth living until you face off with him."
Pearlman has had no previous child labor complaints filed against him in Florida.
However, both the Backstreet Boys and 'N Sync accused Pearlman of deception and cheating them out of money in lawsuits they filed several years ago to get out of Pearlman's control. Pearlman also had a bitter parting with the group O-Town that was documented on the ABC show "Making the Band."
Bob Brandewie, a state child labor coordinator, said he couldn't provide details on the investigation until it's completed. A first-time offense usually results in a warning, but employers can be fined or lose their permit to work with underage performers if they are found in violation during a follow-up investigation, Brandewie said.
The five-member Take 5 disbanded last year.
Expectations dashed
They had high hopes when they came to Orlando in 1997 to join the stable of teen-pop acts groomed by Pearlman. T.J. Christofore and the Goodell boys came from Minneapolis. Tilky Jones came from Vero Beach and Stevie Sculthorpe from Miami. They ranged in age from 13 to 17.
Pearlman put Take 5 in a house together. They took voice lessons in the mornings and dance classes with a choreographer in the afternoons. Band members said their rehearsals sometimes began at 6 a.m. and didn't end until 8 p.m. A private tutor helped with schoolwork until she quit.
"It's not just four years of working," said Ryan Goodell, 21. "It's four years of slaving."
Pearlman said his company and two record companies, edel and Elektra, spent more than $2 million in advances, recording costs, wardrobe, education, meals and travel trying to build up the group.
"Trans Con took care of the house, but all the time we had trouble with the electricity not being paid," said Christofore, 17. "They gave us money for groceries but it was nowhere near enough to feed five guys. Our parents would buy us baby food for protein."
In April 1998, the group went to Germany for its first tour, and eventually traveled through Europe, Asia and Canada. They recorded two albums, "Take 5" and "Against All Odds."
Sculthorpe left the group early in 2001. Later that year, he was arrested for burglary, battery and felony mischief for getting into a scuffle at an acquaintance's house. The group fell apart soon afterward.
Then the group had to stop using the name Take 5 after the Grammy-winning gospel group Take 6 threatened to take legal action.
Sculthorpe is now pursuing a solo career with Trans Continental. Pearlman said the company has talked about working with Jones, who is getting his lifeguard certification while continuing to write music. Christofore is pursuing a solo career in Los Angeles. Ryan Goodell is enrolled in community college in Los Angeles, and Clay Goodell, 17, is in high school in Minnesota.
The Goodells, Christofore and Jones said they never received any royalties from merchandise and album sales.
Pearlman contended that any royalties from Take 5 went to Trans Continental to recoup the expenses of developing the group.
Copyright 2018 The Associated Press. All rights reserved. This material may not be published, broadcast, rewritten or redistributed. We strive to uphold our values for every story published.