Wichita — Baldwin's best finish in a state wrestling meet was 11th place, and that was 15 years ago.
It looks like this year's Bulldogs could change that today at Kansas Coliseum.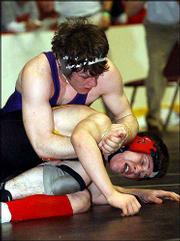 Baldwin is in sixth place in Class 4A with 53.5 points after Friday's competition, and the Bulldogs look to maintain that today, especially with surging sophomore Kyle Flory set to compete in the 171-pound finals.
Flory (42-4), who went 1-2 as a freshman here last year, didn't win by fall Friday, but defeated Pratt's Andrew Riner 6-2, Atchison's Jake Welshear 18-3, and Nickerson's Nick Howell 9-4.
Trailing 4-1 early against Howell, Flory managed to even the match and then take the momentum. Flory said the match shifted when he turned Howell for the first time in the second period. He held on in the last period and will face Pat Vogelsberg from Marysville in today's finals.
"It's a great feeling," Flory said. "It's kind of hard to describe."
Now Flory can focus on the finals.
"It's always been in the back of my mind," he said of reaching the championship. "The way the bracket lined up, I thought I had a pretty good fighting chance."
Baldwin coach Kit Harris, whose fists flew in the air repeatedly after Flory's semifinal win against Howell, said it's been a strong year for the sophomore.
"I'm happy for Kyle," said Harris, who has six of his record seven qualifiers still competing.
"He worked hard in the offseason and has had a tremendous year."
Senior Witt Hinton also advanced to today's championship round in the 275-pound class. Hinton (38-5) defeated Wellington's Daniel Kerr in the semifinals. He will take on Eudora's Shane Grant (19-6).
Baldwin's Dan Hamilton (215), Adam Halford (160), Derek Lang (140) and Joe Bonner (103) are still alive in the consolation brackets.
Baldwin has had spurts of success in the last 30 years, but Harris said the Bulldogs have been slowly building their program in the last few years.
Today they hope to add to that foundation.
Copyright 2018 The Lawrence Journal-World. All rights reserved. This material may not be published, broadcast, rewritten or redistributed. We strive to uphold our values for every story published.