Cruising Massachusetts Street with a carload of friends might seem innocent enough teen-age fun. But it could soon become an outlawed activity if a bill before Kansas legislators advances into law.
Supporters say the bill approved Wednesday by the Senate Judiciary Committee will spare teen drivers death or injury by limiting to one the number of young passengers they can legally haul around. More young passengers means more opportunity for distraction and accident, bill backers argued.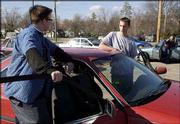 "I want to protect them from being one of those statistics," said Sen. Dwayne Umbarger, R-Thayer. "You get four or five teen-agers in a car and get the boom box going, that's my concern."
Lawmakers say they're responding to a critical public safety issue. But by the time they're finished, teen-age social life in Kansas might never be the same.
Not surprisingly, most Lawrence teens take a dim view of the legislation.
"So you're punished for carpooling?" asked Brandon Faley, a 17-year-old student at Free State High School.
The bill, which would apply to drivers ages 16 and 17, would allow more than one minor passenger in a teen-driven car if they were being transported to school or a school event. The bill doesn't cap the number of brothers and sisters a teen driver could haul around town.
Critics said the bill would be difficult for police to enforce and that teen drivers would simply ignore it.
"Of course, teen-agers are not going to pay attention to it," said Belinda Penaloza, 17, of Lawrence High School.
"We're supposed to be responsible stewards of public safety," said. Sen. David Haley, a Kansas City Democrat who backs the bill.
But Lawrence teen-agers said the idea is as unwelcome as a highway pothole.
Senate Bill 432 sets a $60 fine for offenders and requires those found guilty to have the conviction included in their juvenile record.
"This gets at cruising and the aimless joy-riding," Haley said.
"I think it's ignorant," said Tristan Desetti, a 17-year-old student at Free State. "Cops have better things to do than drive around looking for people who are underage."
He recommended an amendment that all stereos be removed from cars owned by House and Senate members because music could be a dangerous distraction while driving.
LHS student Elena Delkhah, 17, said it was unfair to target young people for special scrutiny. A mother with screaming children in the back seat is as easily distracted as a teen driver with friends, she said.
"Is that part of the law?" she asked.
Alisha Bonds, an 18-year-old senior at LHS, said the measure would punish people with otherwise-unblemished driving records.
"I've been driving since I was 15," she said. "I've never had any wreck or had a ticket. I think this is bad."
Sen. John Vratil, a Leawood Republican and chairman of the Judiciary Committee, had to break a 5-5 tie to advance the bill to the full Senate.
Members voting for the measure included Sen. David Adkins, a Leawood Republican running for attorney general.
Umbarger said the bill wouldn't be popular with many youngsters even one in his own household in Thayer.
"My 16-year-old daughter is not going to be pleased with this," he said.
Copyright 2018 The Lawrence Journal-World. All rights reserved. This material may not be published, broadcast, rewritten or redistributed. We strive to uphold our values for every story published.