Lawrence High girls basketball coach Kristin Mallory sent her four seniors Ashley Burnett, Hallie Fitzgerald, Rachel Severence and Mandy Amyx out on the court to start Wednesday's Senior Night game along with sophomore Rachel Klingler.
Trouble was, it was a Shawnee Mission North senior, Maralene Zwarich, who stole the thunder and the game from Lawrence's upperclassmen.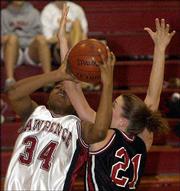 The forward scored 30 points slightly above her average in a come-from-behind, 65-61 victory for the Indians at LHS.
"She's a heckuva player," Mallory said. "She's everything we heard about and probably more. I told our girls that she's the kind of player that you'll probably be able to watch on TV."
Zwarich, who said she will most likely play college basketball somewhere on the East Coast next year, scored 10 of her team's first 15 points and knocked down the Indians' only field goal of the second quarter, a deep three-pointer.
Klingler said the Lions (7-12) focused their defense on Zwarich because they knew that she was the Indians' (12-6) main scoring threat. Only two other Shawnee Mission North players made field goals sophomore forward Denisha Jackson, 16 points, and junior guard Kendra Fisher, nine.
"We knew Zwarich was good and she was all they really had," Klingler said. "We tried to shut her down and had a few different people guarding her and did a pretty good job, but she found a way."
It was in the third quarter that the forward really hurt the Lions. With her team trailing 32-22 at the start of the second half, she scored 11 points in the period and helped Shawnee Mission North trim Lawrence's 10-point halftime lead to 48-46.
"We just wanted to come out of the locker room and show Lawrence that we were better than how we played in the first half," Zwarich said. "We made some shots and played better defense and we closed the gap."
Despite Zwarich's killer cross-over dribble and ability to seemingly pull up and shoot a jumper from anywhere near the basket, the Lions didn't fold. Klingler, who led Lawrence with 17 points, made key baskets in the second half. Each time the Indians came within one point, Lawrence would make a basket or two.
Foul trouble, however, prevented the Lions from protecting their lead. Shawnee Mission North made 19 of 32 free throws, compared to Lawrence's 7-of-15 performance.
In the final two minutes, the Indians outscored the Lions 7-4 with all of their points coming off free throws.
"We were trying to play them up close and we got a few hands on them," Mallory said. "We were lucky that they missed so many of them."
Shawnee Mission North 65, Lawrence 61
SM NORTH (65)
Maralene Zwarich 13-20 3-5 30, Denisha Jackson 6-11 4-8 16, Kendra Fisher 3-9 2-4 9, Cassie Tremonti 0-1 5-9 5, Tracy Anderson 0-4 5-8 5, Katie Jorgenson 0-2 0-0 0, Ashlyn FItzpatrick 0-2 0-0 0. Totals 22-49 19-32 65.
LAWRENCE (61)
Rachel Klingler 7-15 3-6 17, Cherrale Ricks 5-9 1-4 11, Leigh DeBiasse 3-3 0-1 8, Rachel Severence 3-7 0-0 7, Mandy Amyx 2-7 2-2 6, Josie Polk 2-4 0-0 5, Ashley Burnett 0-2 1-2 1, Audrey Pope 1-2 0-0 2, Hallie Fitzgerald 0-1 0-0 0, Shari Lassiter 0-2 0-0 0, Erin Knight 1-3 0-0 2, Jenna Wilcox 1-3 0-0 2, Jodie Cochrane 0-1 0-0 0. Totals 25-59 7-15 61.
Shawnee Mission North 14 8 24 19 - 65
Lawrence 16 16 16 17 - 61
Three-point goals Shawnee Mission North 2-3 (Zwarich 1-1, Fisher 1-2), Lawrence 4-12 (DeBiasse 2-2, Severence 1-3, Polk 1-1, Pope 0-1, Ricks 0-1, Lassiter 0-2, Knight 0-1, Cochrane 0-1). Fouls Shawnee Mission North 14, Lawrence 24. Turnovers Shawnee Mission North 21, Lawrence 17.
Copyright 2018 The Lawrence Journal-World. All rights reserved. This material may not be published, broadcast, rewritten or redistributed. We strive to uphold our values for every story published.