New York — Bargain hunting gave the stock market a generous boost Wednesday as investors took advantage of lower prices after a two-day selloff and sent the Dow Jones industrials up nearly 200 points.
Investors traded more cautiously in the tech sector, however, troubled by reports of improper accounting at Computer Associates.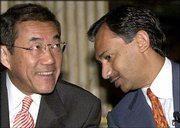 The Dow rose 196.03, or 2 percent, to close at 9,941.17, partly recovering from a drop of 256.85 in the previous two sessions.
The Nasdaq composite index lagged behind the Dow for much of the day, but in a late surge gained 24.96, or 1.4 percent, to finish at 1,775.57. The Standard & Poor's 500 index rose 14.64, or 1.4 percent, to 1,097.98.
Depressed prices, not hopes for the economy, have served as the only catalyst for buying for several weeks on Wall Street. Trading so far this year largely has been dominated by selling on fears about poor business, earnings and corporate bookkeeping in the wake of Enron's collapse.
"The market appears to be one where we are seeing lots of rallies, lots of selloffs," said Alan Ackerman, executive vice president of Fahnestock & Co. "There's little conviction and little leadership needed to get the market going."
Accounting concerns plagued Wall Street on Wednesday. Computer Associates plunged 17.4 percent, down $4.40 to $20.91, on reports in Newsday and The New York Times that federal prosecutors were investigating whether the company deliberately overstated sales and profits to inflate its stock price.
IBM, which fell in recent sessions on reports about its accounting, slipped another 23 cents to $99.31.
But Wall Street's lower prices helped the market at least temporarily set aside accounting worries. Half of the Dow's 30 stocks were up more than $1, with the biggest advance coming from 3M, up $3.73 at $117.10. Dow industrial DuPont gained 82 cents to $46.33 on an upgrade to "strong buy" by Deutsche Banc Alex Brown.
Analysts' upgrades helped other stocks, and gave investors hope that some businesses are poised to turn around. Circuit City climbed $2.21 to $24.32 after Merrill Lynch raised its near- and long-term recommendations to "strong buy."
Copyright 2018 The Associated Press. All rights reserved. This material may not be published, broadcast, rewritten or redistributed. We strive to uphold our values for every story published.