The Lawrence school board is poised for major budget surgery. Today its members will take a good, hard look at the patient and perhaps decide whether they will need a scalpel or a chain saw to get the job done.
During a three-hour study session, board members will get to the nitty-gritty of proposals designed to help the district find $5 million in cost cuts.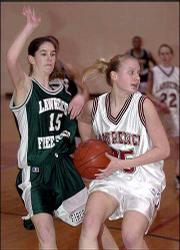 "We need to know whether we can get to that figure," said Sue Morgan, board president.
The session also will give the public a sense for how the board feels about key budget recommendations involving busing, sports and special education.
"Our goal is to come out with some sense of a prioritized listing of potential revenue enhancements and budget cuts," she said.
The session is from 3 p.m. to 6 p.m. at district headquarters, 110 McDonald Drive. It is open to the public.
Sue Morgan said her goal is to delve into a pay-to-ride bus transportation plan, discuss the secondary principals' recommendations for slashing $660,000 in spending and set a goal for reducing the district's $13 million budget for special education.
Scott Morgan, the board's vice president, said this kind of budget review is required because the 2002 Legislature is unlikely to increase state aid to public school districts.
"It's a real problem," he said. "We're going to have to make some adult decisions."
A district budget committee suggested free bus transportation be scaled back to the minimum required by state law. Basically, 2,000 students living more than 1.5 miles from school would still get free rides. About 1,800 students would be dropped from routes but could enroll in a new pay-to-ride network.
Laidlaw Transit, the company under contract to provide bus service to Lawrence schools, needs a final decision from the board in early March.
Both Morgans said they had received less reaction than expected to a proposal to eliminate cheerleading in junior highs and 10th-grade sports at the high schools.
In all, the secondary principals last week suggested $660,000 in targeted spending cuts.
"There is a far deeper (public) recognition of our situation than we've had for a long time," Scott Morgan said. "The question is can you pull the trigger to do this stuff?"
The district's special-education staff may be asked to meet a budget-cutting target set by the board.
"You can't have that large a piece of the budget and leave it unscathed," Scott Morgan said.
Copyright 2018 The Lawrence Journal-World. All rights reserved. This material may not be published, broadcast, rewritten or redistributed. We strive to uphold our values for every story published.