Lima, Peru — Peru's highest court has upheld a 20-year prison sentence against American Lori Berenson for collaborating with leftist rebels in a thwarted plot to seize Congress, the presiding justice said Monday. The ruling was her last option for appeal under Peruvian law.
Berenson, 32, who has already been imprisoned for six years, must now serve out the sentence that ends in 2015 unless she's pardoned by Peru's president.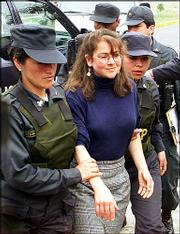 Berenson condemned the decision and said she was joining hundreds of jailed guerrillas in a hunger strike to protest prison conditions and Peru's anti-terrorism laws.
She was convicted in June of terrorist collaboration in the failed bid by the Tupac Amaru Revolutionary Movement to take over Peru's Congress in 1995, but she was acquitted of being a member of the rebel group.
It was the New York native's second terrorism conviction. She was first convicted of the crime in 1996 by a military tribunal and sentenced to life in prison.
In that trial, the court ruled that Berenson was a rebel leader and aided guerrillas by renting a house that served as their hide-out and posing as a journalist to enter Congress to gather intelligence. Berenson denied the charges and said she didn't know her housemates were rebels.
The life sentence was overturned in August 2000 and a new trial ordered after years of pressure from the United States.
The Supreme Court was Berenson's final avenue of appeal. Her lawyer said he will now seek a pardon from Peru's president, Alejandro Toledo.
Her parents, Mark and Rhoda Berenson of New York, have already urged Toledo to grant such a pardon. Peruvian officials had declined to comment on a pardon as long as the case was in the courts. Rhoda Berenson said that she will also ask the Inter American Commission on Human Rights, part of the Organization of American States, to step up its review of her daughter's case. The case could eventually reach the OAS court, which has the power to overturn her conviction. As a member state of the court, Peru is obliged to adhere to the tribunal's rulings.
Presiding Supreme Court judge Guillermo Cabala announced the decision Monday. He said a panel of five judges that oversees criminal appeals reached its verdict last week, but held off releasing it until Monday.
Cabala said that four of the judges voted to uphold the 20-year sentence. Cabala voted to reduce the sentence to 15 years.
Berenson, a former Massachusetts Institute of Technology student, considers herself a political prisoner and says authorities unfairly portrayed her concern for social justice as a terrorist agenda.
She condemned the Supreme Court's decision in a statement released by her parents, who have spoken regularly with their daughter by telephone from New York.
"This judicial process was a farce from its beginning to its end. I am innocent of the charges," Berenson said in the statement.
"We know that Lori is innocent, and we remain optimistic that she will be released. We call upon President George W. Bush to right this wrong and to secure Lori's release," the Berensons said in the statement.
The State Department had no immediate comment.
Bush will visit Peru on March 23 to meet with Toledo to discuss trade and combating drug trafficking and terrorism. Peruvian Foreign Minister Diego Garcia Sayan last week did not rule out that the two presidents could discuss Berenson's case.
Copyright 2018 The Associated Press. All rights reserved. This material may not be published, broadcast, rewritten or redistributed. We strive to uphold our values for every story published.